Ed Guiney hopes latest Sally Rooney adaptation can tap into success of its predecessor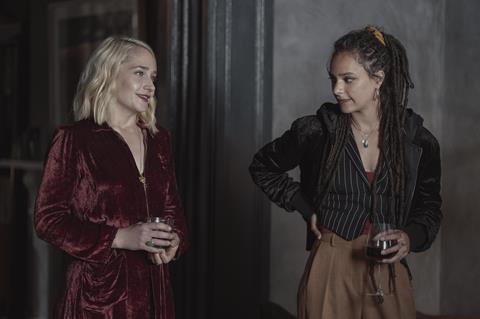 Element Pictures co-founder Ed Guiney has dubbed Sally Rooney's Conversations with Friends a "gnarlier" project than Normal People, as he sets out hopes the BBC3 drama will benefit from its predecessor's success.
The Conversations with Friends (CWF) adaptation launched on BBC3 last Sunday with a seven-day audience of 520,000 (3.5%), some way short of the debut of Normal People, which opened on BBC1 in 2020 to a lockdown-inflated audience of 2.4m (10.2%) after seven-day consolidated viewing. CWF is yet to receive its BBC1 TX.
Guiney acknowledged that "lightning doesn't strike twice" and that there were "particular circumstances" that boosted Normal People's profile but highlighted how the two projects are telling different stories.
"CWF is a cousin of Normal People, for sure, and will probably benefit from its success, but where Normal People was a pure love story, CWF is a gnarlier proposition, with more complicated relationships at its centre," he explained.
"You can't get too hung up on whether it's going to be more or less successful, or better or worse received; we just do the best job we can and honour the book and Sally's creation."
CWF and Normal People share similar DNA; both are adapted from novels by author Rooney, both revolve around the complicated love lives of young Irish people and both are produced by Element, with Lenny Abrahamson co-directing and Alice Birch writing for both.
CWF was originally developed as a film with BBC Films before work began on Normal People, but it was through their work on the latter that Guiney and Element co-founder Andrew Lowe realised that it would work better as a TV show.
"Sally's characters demand more space than film offers," said Lowe, prompting work to begin on a long-form version just before Normal People aired.
CWF is set almost entirely in Dublin, with the shooting taking place there, as well as Croatia and Belfast.
The latter was chosen as a location for a number of factors, involving Covid restrictions, Element's Belfast office and financial encouragement from the BBC to make the show outside of London.
The indie was recently acquired by Fremantle, and although Guiney and Lowe were not ready to speak on the matter, they reiterated previous comments that the deal expands the indie's capacity to make film and TV for international audiences.
As well as current projects including CWF and BritBox's comedy-drama series The Dry, Element has a number of upcoming projects on its slate including The Gallows Pole for BBC/A24. Its films in post-production include Netflix's The Wonder, Poor Things and Chevalier.
As for re-visiting Sally Rooney's novels, Guiney said that there are no plans to adapt her most recent novel Beautiful World, Where Are You: "It's not a live conversation at the moment, but who knows?"