Filming Priyanka Chopra Jonas interview famous faces in LA proved to be more challenging than it sounds, says Sally Freeman
Production company Sundog Pictures
Commissioner YouTube Originals for Priyanka Chopra Jonas' YouTube page
Length 1 x 30-min episode
TX 27 March 2019
Executive producers Rob Bagshaw; Priyanka Chopra Jonas; Johnny Webb; Sally Freeman
Director Sally Freeman
Post-house Directors Cut Pictures
With various platforms getting into the content game, YouTube's investment in original programming is high on the list of desirable platforms. That's why Sundog Pictures was thrilled to have an idea snapped up by YouTube Originals, with its incredible reach and a young, engaged fan base.
The idea for the new project was based upon a book by British entrepreneur Richard Reed called If I Could Tell You Just One Thing, in which he asks inspirational people for one piece of advice that's guided them through their lives. Sundog proposed Priyanka Chopra Jonas as host and once she had signed up the project was greenlit by YouTube.
We had several challenges on our hands. Managing a transatlantic production, with a host who has a finite amount of time and three further contributors who are all stars in their respective fields promised to be a rollercoaster, but as ever production truth was even stranger.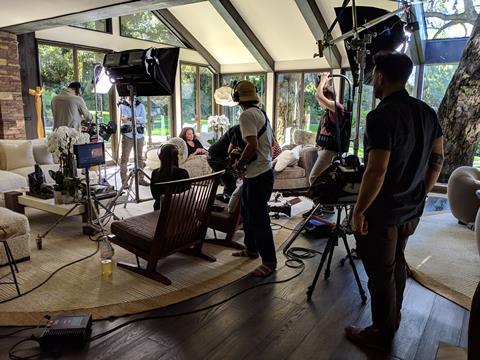 Despite appearances, LA is not the easiest of places to film in. Permits have to be sought and fees paid for lots of seemingly public places, sometimes even for just showing the exterior of buildings if they have trademark status like the Hollywood sign.
Navigating this was the job of the LA arm of our production team who had to scout, permit and plan the logistics of our filming days. With only five days to shoot and big names involved, we didn't have much room for error.
Booking A-listers for a new and untested project is always a challenge and YouTube wanted to celebrate the project and have the trailer launch on International Women's Day, with the overarching theme to be one of celebrating strong women.
Above all, we needed people willing to have authentic, unscripted conversations with Priyanka. Designer Diane Von Furstenburg; Olympic gymnast Simone Biles; and Awkwafina, break out star of Crazy Rich Asians were confirmed as our first three contributors.
My tricks of the trade – Sally Freeman
G

et a flu shot.
Work with YouTube Originals.
Work with US DPs and camera operators that you trust, even if you have to fly them from out of state.
Let those DPs steer you on local equipment hire in the US. They'll often get better deals or beat a rental house deal with their own gear.
Have a DIT on location for all 4K shoots.
Try to use your hands instead of your teeth to break your fall if you take a nosedive.
All was going well until myself and Sundog's executive producer, Johnny Webb, boarded the flight to Los Angeles. I went down with a fever and spent the next 11 hours uncontrollably shaking and we exited the airport to find ourselves in the middle of a weather warning for high winds and rain. Welcome to LA.
It was to get worse. In the middle of the night, I woke to find myself surrounded by blood, broken glass and my front teeth biting into a hardwood floor. I'd passed out in my hotel room and my teeth took the full impact, severing the nerves (hello, double root-canal work). The ER quickly ascertained the cause was the flu. Cue a drip, Tamiflu and a day hallucinating in a hotel room.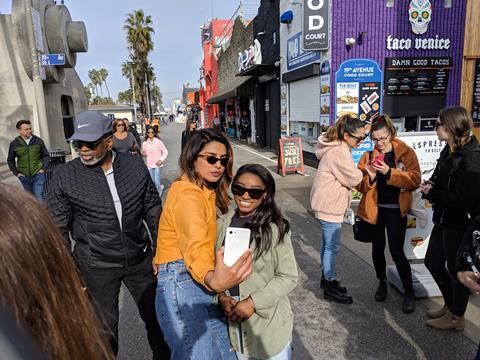 The first day of filming would have to happen without me; Johnny and showrunner and exec producer Rob Bagshaw stepped in for the first conversation. It was still raining.
Gymnast Simone Biles had flown in with her dog, Lilo, to hang out and chat with Priyanka at Venice Beach. She had just three hours to give us before she needed to catch a flight back for her next training session.
The rain stopped moments before we were due to start filming so all was going great until an altercation broke out on the beach, with punches exchanged. Not the backdrop we had planned.
Crew challenges
The crew wasn't insubstantial. Along with execs, local producer, a line manager, DP and camera op, we had two ACs, drivers, PAs, and a DIT for 4K data wrangling and sound. In addition, there was Priyanka's own sizeable team and two dogs.
Despite an inauspicious start, we quickly turned a corner. Priyanka had an ability to cut through the noise that comes with that size of production and have conversations that were as authentic as they get.
At that point it became clear we were onto something pretty special. We're used to seeing celebrities interviewed by chat show hosts and journalists but seeing them open up to their peers without a script is something else.
I made it through the rest of the shoot in a surgical mask to minimise flu contagion, and Diane Von Furstenburg didn't even blink when she opened the door to me on her shoot day. I can only assume she's seen much weirder outfits in her time.
KITTING UP TO BATTLE THE SUN
Zach Zamboni
Director of photography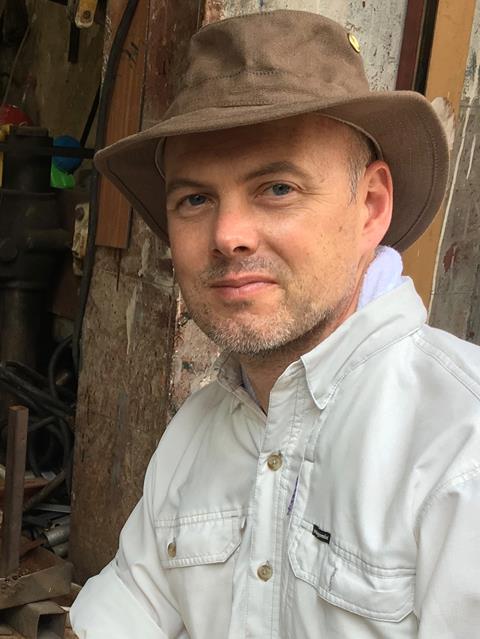 Director Sally Freeman and I have shot in some very tough parts of the world; whenever I see her name on the caller ID there's a distinct feeling of excitement followed by impending doom. So, when she asks if I can film Priyanka
Chopra speaking with a diverse cast of luminaries on the fly, super-fast, doc-style with no retakes – while making sure everyone looks fantastic all the time – I am relieved.
Success in this scenario is part-practice, part technology. What can and can't we control in the scenes we're about to step into? A scout really helps.
Making a sun study is critical – where it will be every 15 minutes of the day.
When moving fast with a limited crew you have to work with the sun as you probably won't have time to overpower or black it out. What sun angle works best in each location, and what time does that occur? Can we shoot then, and if not how will we respond?
For the camera, the less controlled the scenario the more two things become essential – high dynamic range (log recording) and high ISO performance (2500 and beyond).
The less you can could control a scene with lighting and grip, the more help needed from the camera to protect highlights and shadows. The less noisy the camera at a higher ISO, the more we can use available light in darker scenarios and lower wattage lights in general.
For this reason, we chose the excellent Sony Venice, capturing 4K in Slog 3, with the XOCN-LT codec, which has longer record times and plenty of info for the colourist. Lensing was Cooke S4 primes and Angenieux Optimo zooms.
Lighting to enhance beauty generally means larger, softer sources, at the right height and angle to be a great eye-light and place facial shadows in the best spot. Big LEDs that can be dimmed and colour-adjusted quickly are critical – we had Creamsource 1 X 2s, Geminis, Litemats, 400 and 800 watt Jokers and a variety of chimeras.
We carried a good assortment of grip to rig lights and control the sun where we could. We had custom breakdown 4x4 and 6x6 blacks, floppies, and diffusion, as well as loose 12x butterflies. We also carried menace arms, speedrails, and rigging such as Cardellini clamps and suction cups.
Everything breaks down quickly, rolls on carts or cases into a box truck, and is ready for the next scene.