Agency in negotiatings over central Leeds site amid broadcasters' regional programming drive
Screen Yorkshire is seeking to supercharge large-scale returning series in the north by identifying more studio space in its Leeds home.
The northern screen agency is currently negotiating for additional space in central Leeds, according to chief executive Sally Joynson.
Makin Enterprises, the owner of its 34,000sqft Church Fenton studio, has also submitted a planning application to expand its current studio space, which is situated just outside Leeds in Selby, North Yorkshire, and is home to Mammoth Screen's returning ITV drama series Victoria.
"Getting these big, returning series into Yorkshire is an integral part of the jigsaw."
Sally Joynson, Screen Yorkshire
Joynson said Screen Yorkshire's physical expansion will take advantage of a regional programming drive, including Channel 4 choosing Leeds as its national headquarters over Birmingham and Manchester.
Last week, the BFI revealed that the head of its contestable kids TV fund will also be based in the city.
"The key thing for us is getting these big, returning series into Yorkshire; it is an integral part of the jigsaw," said Joynson.
"We are looking at a range of city-based studios, all at stages of negotiation, and if you look at the geographical accessibility and talent pool that we've got in Leeds, plus an ongoing investment vehicle, then more studio space is a compelling offer."
Supercharged studio space comprises a key element of Screen Yorkshire's 2016 five-year growth plan, alongside this month's launch of a new film office.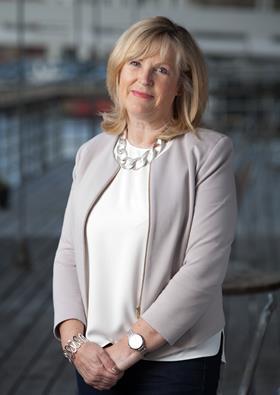 Joynson said the office will be focused on enticing UK production companies or specific projects to film in Yorkshire.
It is being headed up by two "location scouts": Chris Hordley, who joined over the summer from Creative England, and Richard Knight, who has been reshuffled internally.
"There couldn't be a better time to be doing this," added Joynson
"This is about selling the best of Yorkshire and being honest about whether Yorkshire will work for a particular production or company."
The organisation continues to administer the £15m Yorkshire Content Fund, which has supported more than 40 film and TV projects since it was set up at the turn of the decade.
Yorkshire is also the pilot region for the Centre of Excellence, a series of national and regional hubs delivered in partnership with the recently rebranded ScreenSkills and the National Film and Television School.
Trainee Finder
Elsewhere, Screen Skills is expanding its Trainee Finder programme, which places aspiring trainees with high-end TV projects, children's TV and films.
Recruitment for high-end TV will be boosted by a third from 80 to 120 for the 2019 roster, while film recruits will double to 150.
Applications open next year for the 2019/20 intake.
Screen Skills high-end television director Kaye Elliott said the scheme's success had been derided from offering opportunities across a "wide range of skills shortage areas, based across the UK".
She added: "Everyone benefits – the trainees, the productions and the long-term success of television production."