'Traces is a thriller but with a uniquely personal journey, which allows us to tell new stories every week'
Distributor BBC Studios Distribution
Producer Red Production Company; BBC Studios Distribution
Length 6 x 60 minutes
Broadcaster Alibi (UK)
Based on an idea by Wire In The Blood creator Val McDermid, Traces is UKTV's first scripted commission for its crime-oriented channel Alibi and was the product of conversations with its new sole parent BBC Studios (BBCS).
"We're huge supporters of returning crime series," says Martin Rakusen, director of drama content partnerships at BBCS. After talks about how collaboration could aid UKTV's push into originals, "everything seemed to land in one place to become a returning series opportunity", he adds.
The 6 x 60-minute drama from Red Production Company is billed as Happy Valley meets Silent Witness. Scott & Bailey and Twenty Twelve actor Amelia Bullmore is writing the BBCS Distribution co-production, which stars Three Girls' Molly Windsor, Laura Fraser (Breaking Bad) and Jennifer Spence (Travelers). Line Of Duty veteran Martin Compston also features.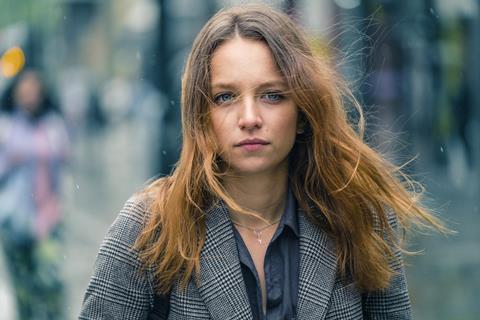 Set in Dundee at the Scottish Institute of Forensic Science and Anatomy, Traces focuses on three female characters – played by Windsor, Fraser and Spence – who together use rigorous forensic science to solve a murder case.
As Windsor's character Emma studies forensics alongside her role as a lab assistant, she discovers that a fictitious case study bears the hallmarks of a shocking link to her past and realises she cannot trust those around her.
Rakusen, who executive produces for BBCS, says the female-led creative team and the fact Traces is "inspired from the real environment" of forensic science combine to make a compelling drama.
Additionally, he says that despite having a 'story-of-the-week' format, the series has significant serialised elements and has attracted international interest.
"Traces is a thriller but with a uniquely personal journey through its spine, which allows us to tell new stories every week," says Rakusen. "This character journey, over six hours, will keep audiences coming back week after week."
While he acknowledges that there are many crime thrillers in the market, Rakusen says Traces approaches the genre in a way other series are "missing".
From a budget perspective, Traces represents an "ambitious" undertaking, but Rakusen says the co-pro partners have uncovered a way to create a series that has "all the hallmarks" of a high-end drama.
"It has a cast that typically sit in those returning series on BBC or ITV, and the look and feel is comparable to where we'd see those kinds of dramas," he adds.
British drama
1

2

3

4

Currently reading

Hot Picks: Traces

5