The huge facility dwarfs the scale of Location Collective's other London studio hub, just down the road in Enfield, North London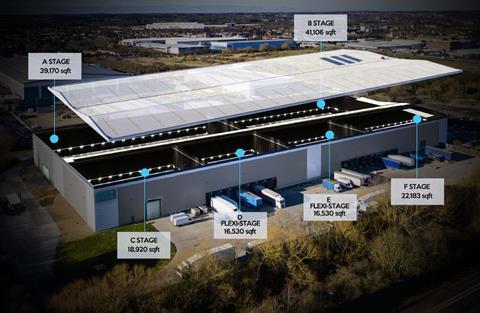 A 224,000 sq ft film and TV studio is planned to open later this year in North London. The facility – called OMA:X Film Studios – is being created by Location Collective, and is located nearby its first film studio venture, OMA Film Studios, which opened last year in Enfield, North London.
OMA:X is on a 10-acre warehouse site. It will have six sound stages, each with 46 ft working height, while the facility will be 50% larger than OMA Film Studios, which Location Collective says makes it the largest film studios inside London.
The project to convert the spaces into a high-spec film studio is underway now, with the studio complex set to open in late summer this year.
Antony Iredale, managing director of Location Collective, says the site has a perfect 'bone structure' for film studio use. The building's 46 ft working height clearance and vast pillarless spans have provided it with an opportunity to create sound stages of significant size and scale.
Total spend on UK film and high-end TV production reaching £3.62bn in 2019 – a 16% increase on the previous year – driven by investment from Disney, Netflix, Warner Bros, Apple and NBCUniversal. As a result, studios are in high demand, and OMA:X Film Studios hopes to be able to tap into that demand.
Currently, "there is nowhere near enough space," says Chris Berry, a director at Lambert Smith Hampton. "We estimate there is an immediate need for 2m sq ft more of studio space. That's approximately four more Pinewoods."
Samantha Perahia MBE, head of production UK at the British Film Commission, added: "This addition to the UK's filming infrastructure is very welcome. As we emerge from the Covid-19 pandemic crisis and the successes of the vaccine roll out to date add to the confidence provided by our stringent Covid-19 safety guidance, we are seeing more demand for filming in the UK than ever before. The British Film Commission is focused on the key role our sector can play in supporting the UK's recovery, through billions of pounds of investment into the economy and associated employment and skills development opportunities across the UK's nations and regions."
Antony Iredale, managing director of Location Collective, said: "We are extremely excited about the role OMA:X Film Studios has the potential to play in bringing the biggest, highest profile productions to London and the UK. The message we're receiving from studio executives we've spoken to over the last couple of months has been the same: 'London is where we want to make this project, we just need to find enough space to do it'.
Cllr Nesil Caliskan, leader of Enfield Council, said: "Location Collective's decision to expand in Enfield with the opening of OMA:X is hugely exciting and beneficial for the borough, and will attract a continuous flow of high calibre film and television productions for many years to come. We have worked closely with London Collective to make this vision a reality and we are delighted that London's largest film studio is opening in our borough."