The OMA Film Studios has been completed during the Covid-19 lockdown and offers 139,000 sq ft of studio space in Enfield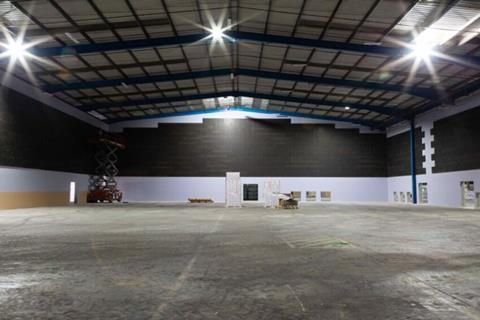 Film and TV studio complex The OMA Film Studios, which claims to be London's largest film and TV studio, is aiming to open later this summer after completing the build during the Covid-19 lockdown.
The complex, in Enfield, north London, will provide 139,000 sq ft of studio space. It is being constructed by location agency, Location Collective, which says it will bolster London's rentable studio space by 53%.
The studios include four soundproofed stages (including a 26,750 sq ft stage); three workshops; two stores; and a 95-bay parking lot.
Location Collective went through an eight-month design process to create the specification for The OMA Film Studios and secure the necessary permissions, with assistance from Enfield Council.
Antony Iredale, managing director, Location Collective, said: "It's not been easy keeping this project on track in the current climate but our instinct was that on the other side, contained, controllable spaces were going to be the ones the film industry needed most. The British Film Commission's Codes of Practice for safe filming post-Covid demonstrate that this is very much proving to be the case."
British Film Commission CEO Adrian Wootton, adds: "This addition to the UK's filming infrastructure is hugely welcome. We anticipate more demand than ever for UK stage space in the coming months."
Enfield Council's deputy leader, Ian Barnes, said: "OMA Film Studios opening in Enfield is hugely exciting and beneficial for the borough, and will attract a continuous flow of high calibre film and television productions for many years to come."