Potion Pictures' interactive LED floor animations for 5 Gold Rings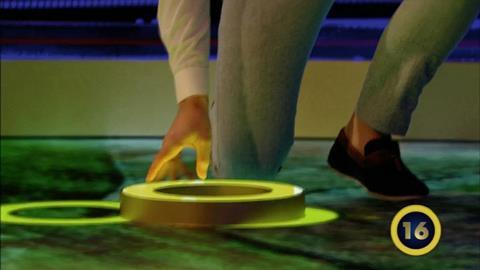 Motion graphics and animation studio Potion Pictures created an animated interactive LED floor as well as on-screen graphics for ITV's interactive gameshow 5 Gold Rings.
During the show, contestants place increasingly smaller gold rings on a giant circular LED floor to pinpoint their answers to visual questions. Potion Pictures head of design Nicholas Reyniers led a team of designers to create the animations for the LED floor, working closely with interactivity specialist Ionoco.
Sensor technology accurate to within a pixel was supplied by Ionoco, enabling Potion to design graphics in multiple iterations to provide maximum flexibility for the outcome of each game.
Each question's visual had a different brief, ranging from simple stills-based reveals through to complex 3D builds.
All had to be visible through an overhead camera, as well as for the contestants interacting with the floor graphics.
Potion Pictures modelled the different elements in Cinema 4D and composited in After Effects.