Animation studio aims to mix traditional craft skills with modern techniques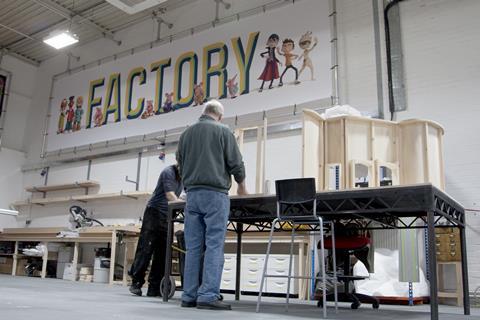 Animation house Factory is opening a new studio outside Manchester, called Factory Creative Engine, to house the production of sets, puppets and models. It says it will create 40 more jobs in the Manchester area.
The studio mixes modern technology and production methods with traditional techniques, to offer "state of the art" character creation services.
Factory Creative Engine will include a temperature and climate controlled space to contain its 3D printers and CO2 laser cutters.
Factory has produced 2D, 3D CGI, stop motion and live action animation, and its credits include Clangers, Newzoids, Scream Street, Becca's Bunch and Strange Hill High.
It intends to use the facility to create more of its own animation IP. The company recently launched Factory Rights, and its first original output was a YouTube series called Off The Leash, which was created by Factory and cartoonist Rupert Fawcett.
"I look forward to getting stuck into creating characters and worlds for the shows, and playing an active role in furthering Factory's business plan," said Jon Kershaw, manager of Factory Creative Engine.
"The technology we use is at the very forefront, and combined with the traditional artisan production techniques, we have all bases covered for any show we work on, allowing us full creative freedom," adds Phil Chalk, managing director of Factory.