A stabilised and remote-controlled broadcast camera is carried by a figure skater among the dancers.
Dancing On Ice has used an ice-skating cameraman combined with a stabilised and remote-controlled broadcast camera to bring viewers closer to the action.
Figure skater Jordan Cowan carries the 'Ice Cam', which he holds on a Ready Rig with a Newton stabilized remote head - supplied by Alan Wells Camera Services. The Sony HDC-P50 broadcast camera and Canon HJ14 lens is remote controlled by cameraman Dominic Jackson through a Newton control panel at a normal operator's desk.
Cowan, who has competed for the US national figure skating team and created video productions on ice in the past, became involved after a friend told him of the need on the UK show: "I contacted the producer and showed them some of my recent video productions. They liked it and hired me for the 2019 season, making me the first ever skating camera operator for a live televised skating show."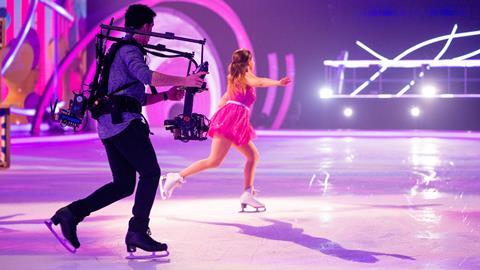 In the past, cameraman Jackson would use spiked shoes to film on the ice with a Steadicam, and originally planned for a push trolley with a remote stabilised camera head to make ths more dynamic. However, this was abandoned for the handheld approach, which uses a Ready Rig customised with carbon fibre brackets so it can carry the weighty Newton set up.
It was then fitted to Cowan's body when he arrived from the US, and tested with the Dancing on Ice production at its RAF Bovingdon studio with camera supervisor Lincoln Abraham and director Nikki Parsons.
The final system weighs 15kg and includes an RF system for data communication, a Boxx Link for video, batteries and a monitor. Jackson and Cowan are also able to speak to each other over a radio system, and keep a line of sight so Jackson can see where the camera is in relation to the dancers.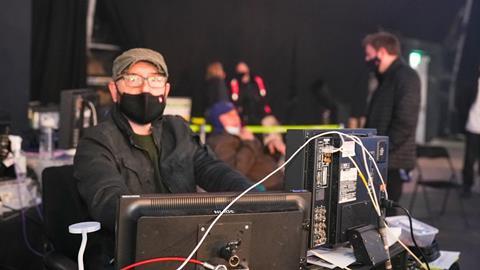 Cowan said: "Dominic has been an essential part of the show for me and his experience working with Nikki [Parsons, the director] was invaluable. We work closely together on headset the entire weekend through rehearsals and the show. Dominic taught me everything I needed to know to work in a live multi-camera broadcast situation and taught me how to translate Nikki's shot cards. He's been a great mentor as well and I'm lucky to have learned so much from someone so experienced in live broadcast television."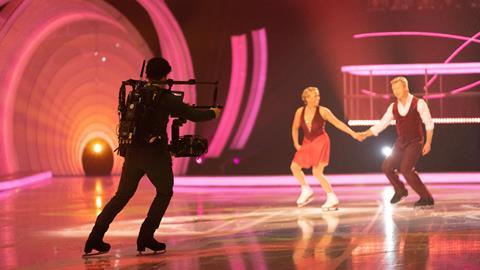 The Guild of Television Camera Professionals nominated the pair for an award in 2019 as a result, and Cowan commented: "The Ice Cam revolutionized Dancing on Ice and gave audiences a new way to appreciate the real speed skaters experience on the ice. The 360 degree shots also let us see the back of the studio and audience for the first time, something the show's set designer really appreciated because he always puts work into making a full 360 degree experience.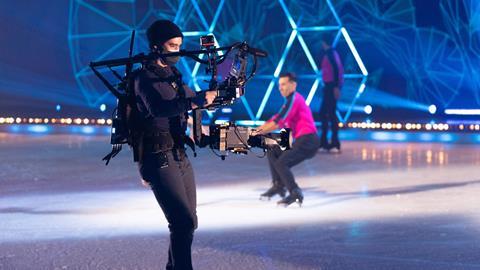 "In December 2020, another British show, The Real Full Monty on Ice, also brought in the Ice Cam with me skating and Alan Wells in person behind the NEWTON controller."
Going forward with the 2021 season, Cowan pointed to continued development of the technique: "I want to keep pushing myself into the professional TV and movie world, because I believe that seeing skating in television, movies and on live TV shows is going to be so important for the future of this sport."