External HDR monitor/recorder enables images to be viewed on location through an ultrabright 2,500 nit display.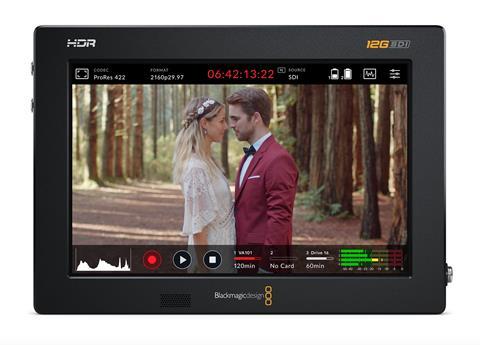 Blackmagic used IBC 2019 to launch HDR (2,500 nit) versions of its external monitor/recorders.
The Blackmagic Video Assist 12G has four built-in-scopes (which change to HDR scopes when working in HDR formats; 3D LUTs (look-up tables); and adds Apple ProRes, Avid DNx and Blackmagic RAW recording to cameras.
It comes in either 5" or 7" models, with each having a touch-screen user interface with deck controls. There's also a large screen to view recordings.
The recorder uses SD cards, and, Blackmagic says, the files are small enough to allow long recordings on standard SD cards or faster UHS-II cards.
Blackmagic Video Assist 12G includes a built-in professional audio recorder that Blackmagic says is "much better quality than the audio quality found in most cameras, eliminating the need to carry around extra audio equipment."
Blackmagic Design CEO Grant Petty, said: "The original Blackmagic Video Assist monitors and recorders were very popular and a fantastic way to upgrade older cameras, as well as for use in general broadcast areas of the television industry. These new models are an incredible improvement and incorporate all the lessons we have learnt from our customers in Hollywood. They have brighter LCD screens, 12G-SDI, Blackmagic RAW, better focus assist tools, presets, 3D LUTS and much more. They are so nice and it's very exciting."
The new models will be available in September from Blackmagic Design resellers worldwide, with pricing from US$795.