Red's range of cameras will now be built around a single camera brain.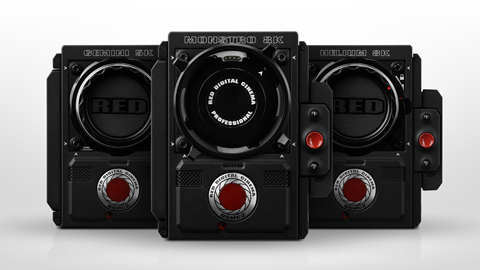 Red has simplified its product range and decreased its pricing.
In a bid to make its offering easier to understand, Red's assortment of cameras will now be limited to a single DSMC2 camera brain with three sensor options - Monstro 8K VV, Helium 8K S35 and Gemini 5K S35.
Red says the DSMC2 camera brain "includes high-end frame rates and data rates regardless of the sensor chosen". It is capable of up to 60 fps at 8K, and makes simultaneous recording of Redcode raw and Apple ProRes or Avid DNxHD/HR. The DSMC2 can be configured in different ways, with a choice of input/output modules, mounting equipment, and methods of powering the camera.
The specifics of what difference the sensor makes when combined with the DSMC2 are then as follows, along with the updated pricing.
Monstro 8K VV offers "cinematic full-frame lens coverage, produces ultra-detailed 35.4 megapixel stills, and delivers 17+ stops of dynamic range for $54,500 (£40,500)," says Red.
Helium 8K S35 delivers "16.5+ stops of dynamic range in a Super 35 frame, and is available now for $24,500 (£18,000)," says Red.
Gemini 5K S35 "leverages dual-sensitivity modes to provide creators with greater flexibility using standard mode for well-lit conditions or low light mode for darker environments priced at $19,500 (£14,500)," says Red.
Red will begin phasing out its Epic-W and Weapon camera brains immediately and offer new upgrade paths for those moving from older Red camera systems.
"We have been working tirelessly to become more efficient, as well as align with strategic manufacturing partners to optimise our supply chain," explains Jarred Land, president of Red Digital Cinema.