Canon's UK & Ireland and EMEA HQs to co-locate in Uxbridge in a move which will see 450 staff relocate or made redundant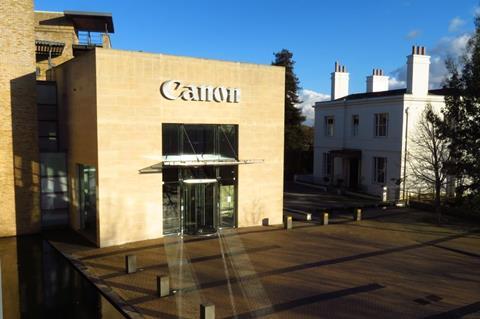 Canon is to relocate its UK & Ireland headquarters from Reigate to Uxbridge, in a move that will result in the relocation or redundancy of 450 staff over the next 12 months.
Canon's UK & Ireland business will be co-located with its existing Europe, Middle East & Africa (EMEA) HQ in Stockley Park, Uxbridge, where it currently has around 750 staff.
Canon said the decision followed a "comprehensive review" of its UK & Ireland business, which has led it "to address efficiency improvements by proposing an outsourced model (BPO) for selected departments in Finance, Business Operations and Customer Services."
Canon said that the outsourcing means that its Reigate facility will have significant over capacity for future requirements.
"Co-locating the Canon UK&I HQ with the Canon EMEA HQ will give the company the opportunity to right size its UK & Ireland operational footprint and facilities to match the size of its workforce," said Canon in a statement.
Canon added that outsourcing will help it to focus on core business activities, such as sales and marketing.
Canon UK&I managing director Yusuke Mizoguchi said: "Canon UK&I is one of the most important National Sales Organisation's (NSO) in the Europe, Middle East & Africa (EMEA) region and will continue to retain its own identity, with a very clear focus on sales and marketing for the UK&I markets. Given that the EMEA HQ has been based in the UK for many years, it makes strategic sense to seek out opportunities to create a more streamlined operation whilst increasing our overall competitiveness."
Mizoguchi added: "Having a joint location will enable us to look for opportunities to share resources and run a more efficient organisation which will also create some broader group opportunities for some of our UK employees."
Canon said the full transition to the Stockley Park premises could take up to 12 months, and that the move underscored Canon's full commitment to the UK as a base for its EMEA Headquarters and to having a strong and ongoing UK & Ireland sales presence.
Reigate MP Crispin Blunt said the decision would result in relocation or redundancy of 450 staff from Reigate within the next 12 months.
Blunt said: "Whilst this consolidation is positive for the UK as a whole, in that Canon has committed to consolidating its UK and EMEA headquarters in the UK, whatever happens with Brexit, it is a blow to the local economy with the loss of a key multinational corporate company moving from my constituency.
"A downturn in profitability resulting from Brexit uncertainty and a weak sterling has almost certainly played a part in this business decision. I would argue that a firm decision to stick to the UK's original deadline for leaving the EU may have prevented this happening due to, by now, there being a clearer and more predictable economic outlook for the UK."