Samsung and the 8K Association reveal new certification scheme for industry-standard 8K televisions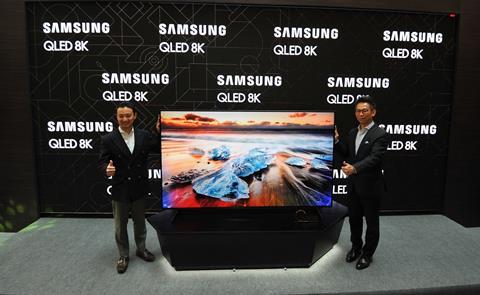 The 8K Association (8KA), in association with Samsung Electronics, has created a certification program for 8K-enabled TVs.
The 8KA certification program wants to differentiate TVs it can demonstrate have four times as many pixels as 4K TVs, as well as high dynamic range (HDR) capabilities.
Accredited televisions would need to offer resolutions of 7680 x 4320, peak brightness greater than 600 nits, image transmission of HDMI2.1 and high efficiency video codec (HVEC).
Samsung's QLED 8K television (pictured above at the product launch) will be one of the first TVs to receive the certification.
As well as launching the certification program, 8KA will unveil a series of promotional activities for the 8K industry, including demos showcasing 8K-enabled products, 8K production workflows, and how consumers can engage with 8K content.
Hyogun Lee, executive vice president of the visual display business at Samsung Electronics, said: "Our goal is to provide consumers with the ability to easily identify premium 8K displays from other devices when making purchasing decisions. Home entertainment and TVs are important investments for many of our consumers, and we hope that the 8KA Certification Logo will help guide them."