Accurate.Video Edit allows for editing from a web browser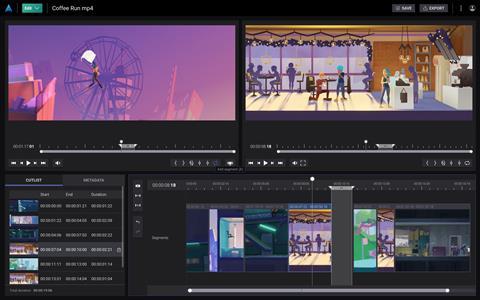 Codemill has launched a cloud-based video editor, Accurate.Video Edit.
Specificlaly designed for content supply chain workflows, the program can be used to make edits from within a web browser. Examples given of uses include editing for content compliance, content localisation, versioning for different platforms, and segmentation for promos or marketing.
There is also the ability to remove unwanted elements such as colour bars, slates, black frames and other inappropriate content, as well as create subclips, instantly add definable black frames between clips and render these to their location of choice at broadcast quality.
Accurate.Video Edit features
UI & controls: Frame-accurate video and audio playback, with proxies if needed, as well as thumbnails while scrubbing to quickly find the scenes required, with extensive keyboard shortcuts for simple playback and edit functions.
Time coded metadata: Ability to visualize time coded metadata in the source timeline, select markers and create segments from the selection, or exclude the selection.
Timeline: Includes interactive segments, support for drag and drop, and users can insert and overwrite timeline operational modes, snap to the closest segment, split segments, as well as undo and redo.
Export: Export and render with configurable presets, to broadcast quality formats, including ProRes, MXF and high quality MP4, using scalable cloud transcoding. Users can export video and audio, and segments as individual files (subclips) to the location of their choice.
Product owner at Codemill, Simon Bergmark, said: "With video production and media workflows increasingly moving to the cloud, editing has until now remained a cumbersome process, often requiring content to be downloaded, taking time and incurring data egress charges. Accurate.Video Edit enables essential edits, while keeping video content in the cloud throughout that process."