Technicolor's VFX work on Sky Atlantic's forthcoming historical drama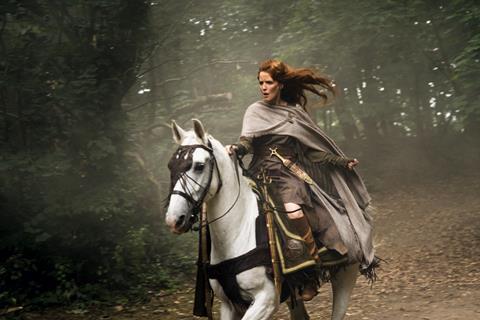 Client Sky Atlantic/Amazon Prime Video
VFX Technicolor (other VFX were completed by Nvizible, Unit and Lola).
Brief 502 VFX shots on this nine-part epic for Sky Atlantic.
How it was done Technicolor delivered 502 VFX shots across this British historical period drama series, set in 43AD, which follows the Roman army as it attempts to crush Britannia, a mysterious land led by warrior women and powerful Druids. Technicolor generated 3D armies, camps and weapons and carried out extensive compositing work. Its involvement in the production started early, as Technicolor head of VFX Gary Brown told Broadcast: "We were involved with Britannia in the Summer of 2016 during principal photography and were commissioned to generate sophisticated mood edits, using early shot footage along with visual references. These were used to help the production team discuss, visualise and plan how to approach shots. We were also commissioned to spend time filming background plates and elements."
Technicolor began its main VFX work in January 2017. At the peak of the work, it had between 10 and 15 artists working on it, as well as a dedicated producer, VFX editor and VFX supervisor. It delivered its final shots in July 2017, almost a year after it began work on the production.
"We spent a lot of time focusing on the Roman army and camp, ensuring the audience got the full scale and impact of the size of the invasion – we did a lot of crowd reproduction and 3D set extension," said Brown. "Episode 10 springs to mind as one in which there was a VFX-heavy attack scene. This is a five-minute, 60-shot sequence in which one of the tribal groups is attacked at night. What ensues is an action sequence with a wide range of shots from intimate GoPro and drone cameras. Our work involved a lot of extending and multiplying soldiers, weapons, fortifications, fire and smoke, as well as creating fireballs. It was mainly 2D, but we did use 3D in some of the set extension."
He continued: "We were afforded the resources to take shots to a very high level both creatively and technically. What you also get with a show that has production values this high is the chance to add small details on shots that surround the main VFX shots. It might not be immediately apparent to the viewer that we've undertaken this work, but it's there and contributes to the overall sense of reality and completeness of a given scene.
"The whole process from start to finish was very much comparable to that of a high-budget feature film. This is exactly the kind of work our artists relish and exactly the quality and integrity we've built our new studio to handle."
Watch it Sky Atlantic and Now TV, from 18 January