Three new members join the company to operate the system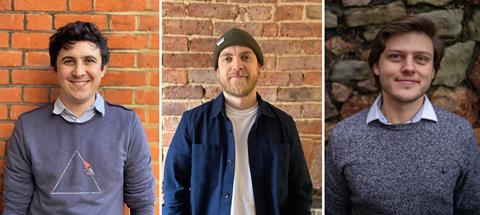 Envy has launched its own fixed rig capture and media management system, Envy Capture.
It will offer bespoke HD &UHD edit ready, live video & audio capture services, with a team of specialists to operate it. That team includes three new hires: head of technical operations, Ricky Martin; capture systems specialist, Toby Weller; and location supervisor, Elliot Leigh. Martin and Leigh held the same positions at Evolutions, while Weller was chief engineer at Evolutions Bristol.
The team will offer live capture of video and audio streams into media ready for the editors, either at Envy in person or via its remote offering – in HD or UHD codecs.
All PSC content is processed by the Capture team - backed up and verified onset, ingested, prepared for the project, and delivered back to Envy, where it will be securely stored in multiple physical and digital locations - including a full organised and documented LTO archive.
In addition, there is also a logging tool set that allows content to be logged both live and after the event - and then passed to offline.
CEO of Envy, Dave Cadle, said: "We have always wanted to enter the fixed rig market and having Ricky, Toby and Elliot on board brings us high calibre people with lots of experience and ENVY is very excited to have them on board as part of our ever-growing future and our new Capture division."
Martin added: "The opportunity presented by Dave Cadle to lead Capture's development and build the offering from the ground up is an incredible prospect. It will give us the opportunity to be more involved and adaptable for our clients and help them earlier in the pipeline."