Panasonic compact cinema camera to be bolstered via firmware update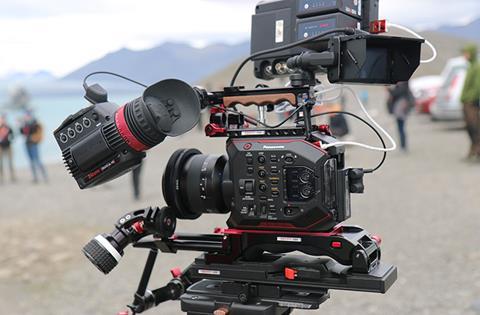 Panasonic is to add ALL-Intra codec recording and RAW outputting capabilities to its new EVA1 compact cinema camera via a new firmware update.
The free upgrade, which will be available from the end of March 2018, will see the super 35mm sensor device gain ALL-Intra codecs for 422 10bits (including 4K up to 30p @400Mbps) and ALL-Intra codecs for high frame rates (including 4K up to 30p @400Mbps).
RAW output on 6G SDI will support 5.7K RAW up to 30p, CROP 4K RAW up to 60p and CROP 2K RAW up to 120p
Time-lapse recording and HD 422 interlaced codec for TV applications are also included.
Another new feature in the update is remote operation using third-party wired controllers, allowing focus and iris control for diverse lens options, as well as zoom control for Canon compact cine servo zoom.
Support for additional Sigma ART lenses is also included along with LCD signal cloning to HDMI and additional home screen indicators for improved monitoring.
EVA1 is designed for use in independent filmmaking, commercials, documentary and live events.
It has a native EF and optional third-party PL mount, can be used with gimbals and drones and uses the colour science and dual native ISO found in the Panasonic VariCam.