Hiring of colourist Jet Omoshebi is final piece of the jigsaw for post house's push into TV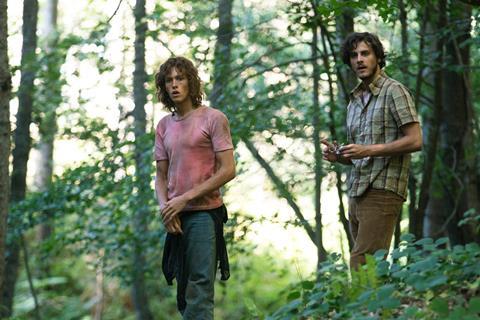 Goldcrest Post Production has opened its new TV drama wing with celebrated colourist Jet Omoshebi (pictured below) at the helm. Omoshebi, whose credits include Life On Mars, Emma, Line Of Duty, Fortitude and The Night Manager, was the missing piece in a drama department that Goldcrest has been steadily assembling over the past four to five years.
The facility, which built its reputation through audio post, first established itself in picture post back in 2014 with the arrival of colourists Adam Glasman and Rob Pizzey and managing director Patrick Malone, who all joined following a mass exodus from Company 3.
Initially focused on feature film work, Goldcrest announced its push into drama last year, revealing Omoshebi would be joining the team and building a number of 4K and HDR DaVinci Resolve grading and online suites around her needs, and investing in dedicated shared storage specifically for drama work.
Fêted drama dubbing mixer Howard Bargroff also set up home at Goldcrest to work on audio.
Goldcrest Post chief executive Chris Quested told Broadcast that the expansion into TV was driven by the arrival of the likes of Netflix and Amazon driving up budgets and production standards. "Drama budgets have got much bigger and that's changed the whole marketplace. Previously, if you were just dealing with a BBC or ITV drama, you were in a bidding war with 10 other facilities about who was going to do it the cheapest – we are not here to just deliver the cheapest job possible."
"There's now an increasing crossover with DPs and directors on features and high-end drama," added Malone. "They used to be two very distinct camps, but now we are getting established feature DPs saying they're doing an episodic drama and asking if we can do the grade. So we started to think we needed to focus on this as a separate stream of activity, as opposed to just trying to shoe-horn it in. When we announced we were going to launch a drama department, we had to do something very meaningful regarding who'd run it. I can honestly say my only conversation was with Jet."
Trusted pair of hands
Omoshebi has now been with Goldcrest for three months and has just finished her first job, the Danny Boyle-directed FX series Trust (pictured above). "I was hoping for a nice soft start but actually it's been great to have something to get my teeth into," she told Broadcast. "It's a great job and is really good fun. We're just coming to the end of the SDR grade and then we're going in to do an HDR grade."
"People have responded very positively to Jet being here and we have a full order book for the year ahead," said Malone. "She has a very long list of clients and a long list of people who haven't had the opportunity to work with her before and have made enquiries with us now that she's here."
Despite the fanfare around the drama department launch, Omoshebi isn't going to be exclusively working on dramas and a number of feature films and commercials are already booked in to work with her.
"It's not 'if' but 'when' she moves from a drama to a feature, it's just a case of moving from one room to another," said Malone. "Equally, features clients can move into one of these rooms to do drama projects with any of our senior colourists. I want it to get to the point where they're not seen as features or drama colourists, they are senior colourists who can do any kind of work in any genre."
This works for Omoshebi too. She said she found it challenging being restricted to a single genre in her previous role at Deluxe's Encore Post.
"I had a lot of clients who were starting to do all different types of work and I was getting a little frustrated at not being able to just service them with whatever they needed to do. It felt a bit strange to say, 'Oh, I don't do that, sorry.'
"Obviously Deluxe is a big company and it's very difficult to change the culture, whereas there's no difficultly here [at Goldcrest] if a client walks in and they've got a film and want me to do it."
Next on the cards for Goldcrest could be an expansion into visual effects, said Malone. "VFX is something that we are thinking about very hard, but I've got nothing concrete to say about that at the moment. An astute person may say it would be a good direction to go in. With drama, if you've got the ability to do the VFX work in-house, that's certainly seen as a benefit.