Broadcast and post-production rental and workflow consultancy expects to hit £4m turnover in first year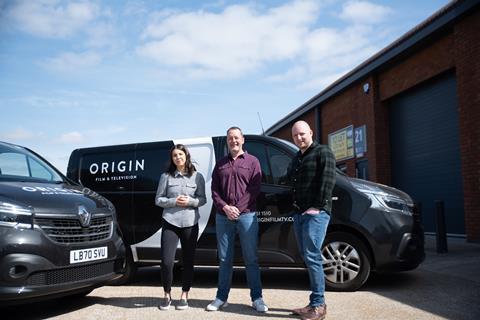 Origin Film and Television has revealed that it has reached £4 million in turnover in its first year.
Founded by Liam Wife, Origin was set up ten months ago, and operates a dry hire business offering specialist equipment including cameras, lenses, EVS servers, Avid storage, monitors, workstations and applications with full technical support and strict quality control.
It complements this by also offering project design and workflow engineering prowess with a range of cloud, virtualised services and bespoke solutions, with all its services aimed at live production, reality and factual entertainment shows as well as film and longform drama.
Alongside Wife, the senior team is made of rental manager Ken Newmarch and lead solutions architect James Fishwick.
It now has a customer list that includes all major broadcasters, post houses such as The Farm and Raccoon, plus OB Companies including NEP and EMG. It has worked on Tokyo Olympics, Wimbledon and every major sporting event this year as well as the likes of Killing Eve and Dragon's Den.
The team is made up former Hyperactive Broadcast employees, and Wife explained how start-up investment has been important: "It's fantastic news and the future is exciting for us. We've gone from strength to strength after attracting a significant £5million initial start-up investment. We are now on target to hit £4 million turnover in the first year of trading."
Explaining the name, Wife continued: "We wanted to encapsulate the idea that we were a new beginning, but with our teams roots in Hyperactive Broadcast which was widely considered to be the first to embrace a file-based workflow environment (Avid and EVS) in 2008 at the Beijing Olympics."
He believes its range of services and staff means that Origin can aim to be first choice, "when embarking on a demanding live production or designing a workflow for an HETV drama with complex, multiple delivery requirements. Or for streamlining a fast turnaround reality or factual entertainment show requiring multi-seat editing and reviews in multiple locations from multiple data sources."