Strikingly designed facility ramps up VFX house's virtualised studio space to unprecedented levels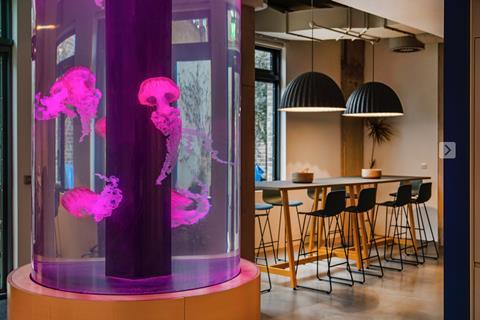 VFX house Jellyfish has opened a new high-spec facility in Brixton, after closing its HQ in Margaret Street, Soho. Its new HQ, which houses 200 artists, is in a recently completed, state-of-the-art building a short walk from Brixton tube.
As well as being strikingly furnished, Jellyfish has gone completely virtual with the new build after moving all its IT infrastructure to a co-location.
It says it's the "largest facility in the world working in this way" and means Jellyfish has all its computing hardware in the co-location site and no computers within the building. The company uses Teradici's PCoIP technology to connect to the storage in the co-location. Its VFX operators can access all the same software as before but instead use virtual rather than real terminals.
It's an extension of a model Jellyfish has pioneered over recent years, having previously created an entirely virtual studio in Oval that opened three years ago. This building now also utilises the hardware moved to Jellyfish's co-location site.
On top of the innovations Jellyfish has incorporated in the setup of its building, it has also incorporated top-end videoconferencing facilities throughout the site, to ensure high quality links to clients based abroad.
All meeting rooms have been equipped with the latest Crestron/Extron dual display systems, enabling a video conference with the client on one screen while the other screen is used to view content that's on the secure TPN network.
Biamp microphones hang discreetly from the ceiling to pick up audio from any angle in the room. This system also takes care of noise and interference cancelling to help manage dual audio sources.
Another highlight of the new building is its 50-seat screening room, with a 4K projector and Dolby Atmos sound.
There's also an eye-catching circular fish tank that's full of jellyfish and that's colour can be changed via remote control.
The new Jellyfish building joins the company's other UK offices – it has two in Oval, an additional building in Brixton and a VFX studio in Sheffield.
Jellyfish co-founder Phil Dobree told Broadcast: "Coming to the end of our lease and outgrowing our office in Soho, we had two options – get another office in Soho or move out entirely. The extra space, technology and opportunity to make a difference with a stunning new studio in the creative hub of Brixton, where we already have a studio, against the high rents, rates and small spaces in W1 made the decision an easy one in the end."
"The new studio is 100 metres long, we are all on the same level; that is the equivalent of taking the whole building of where we were in Margaret Street," he adds. "Even having something as simple as stairs creates barriers. Another, quite personal, reason I am proud of this facility, is that we are contributing to an increasing creative industry in Brixton."