Who Wants to Be a Millionaire? line manager Clair Carney on the show's Covid-19 safe return to the studio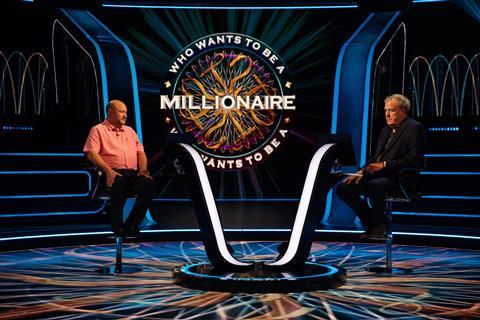 Who Wants to Be a Millionaire? was one of the first entertainment shows to return to production after Covid-19 lockdown measures eased in the summer.
It filmed in July at Dock10 without a studio audience, following strict government guidelines around social distancing.
Stellify had begun researching and casting for Who Wants to Be a Millionaire? in January and had been set to shoot in April.
With casting complete, Who Wants to Be a Millionaire? was in a strong position to return when lockdown began to ease.
But first, key changes to the production were needed. "It was evident that there was no way we could have a studio audience," says line manager Clair Carney.
The show's production and lighting designers had to adapt the set and add more graphics.
"When you watch, I don't think you really notice there isn't an audience," says Carney. "The format actually works in our favour, as we don't really rely on audience interaction all the time like some other shows. Instead, viewers are interested in the play of the contestant, and their interaction with Jeremy."
The main victim was the 'Ask the Audience' lifeline had to be dropped, replaced by a second opportunity to Phone A Friend.
Behind the scenes, there were further changes so the show adhered to Covid-19 safety guidelines.
"It was challenging," says Carney. "You have to really question everything you normally take for granted as a normal process for making TV."
Ahead of production, Stellify turned to industry safety consultants First Option for advice, and also consulted with ITV and Dock10. Stellify also hired its own Covid-19 supervisor for the shoot.
"We had to do a lot of groundwork to look at how each department worked," says Carney. At every point, health and safety was considered, right down to the smallest detail: from how contestants and crew got to the studio, through to catering, hair and make-up, and spaces between desks in the production office.
Dock10 also provided Who Wants to Be a Millionaire? with a bigger studio than usual to help with distancing.
The size of the Who Wants to Be a Millionaire? team – about 55 people - arguably made it easier for the show to return to production quicker than some other productions. "We're quite a small studio team for such a big programme, and we haven't got huge volumes of people on the set when we are recording."
The show's team is also split quite naturally into certain groups that rarely come into contact with others, such as casting, the contestants or crew in the production gallery. Again, these 'bubbles' helped with social distancing.
One of the key changes to ensure safe working was to allow more time in the schedule for the shoot, in particular during the rig and de-rig of the set.
During post-production, only one person was allowed in an edit suite at a time, while viewings would take place in bigger rooms. The show's execs could also remotely view and sign off each episode.
This included the episode that saw teacher Donald Fear win the top £1 million prize, the sixth contestant do so in the show's 22 year history in the UK. "It was just great, and a bit of a blur, to be honest," recalls Carney. "After everything with Covid-19, and getting the show back up and running, it was such an amazing thing to have happened in such difficult times."
Photo credit: Stellify, Photographer Rachel Joseph