Show moves forward to May next year and will rebrand as The Media Production & Technology Show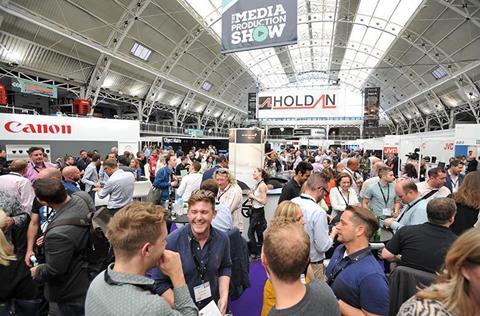 The Media Production Show, the UK's leading event for the media production and technology sectors, has outlined its vision for its 2020 show.
This includes a new May date for the event, and a name change to The Media Production & Technology Show.
Last month, MPS confirmed that it was bringing forward the dates for its 2020 show from June to 13/14th May at London's Olympia.
Event director Charlotte Wheeler said the date change followed discussions with exhibitors and partners about the ideal dateline for the event.
Wheeler explained that closing the gap after NAB in April will enable MPS to showcase new technology advancements and launches, and deliver the most up to date content and themes for visitors.
MPS's current dates also overlap with Sheffield Doc Fest by two days, which is an important visitor market for MPS, and Wheeler said moving away from this event makes sense.
She added that May is a better time of year for budgets and spending across several sectors including education and public sector broadcast spending.
She also said that holding an event in June can conflict with the start of the summer filming season. Moving to MPS to May will enable more DoP's, lighting directors, camera operators, location sound, location managers etc to attend the show and benefit from its offering. May is also a more convenient time for the live event and outside broadcast sports market.
Wheeler said: "We have held a successful show in the June dateline for the last three years and by listening to our market and being proactive in how we deliver our event we have brought the show forward.
"We will be the first show held after NAB, four weeks before the planned 2020 BVE exhibition which has now changed its dates into a June timeline. The show developments don't stop there though, and we are delighted to confirm that we will continue our focus for the production and post community through our exceptional free content programme and wide-ranging relevant exhibitors, but we will also bring technology to the forefront of our show in 2020."
As part of this renewed focus on technology, from 2020 the show will be called The Media Production & Technology Show.
Additional new features will include:
- The Broadcast Technology Theatre with technology Keynote speakers
- Technology Briefings Suite
- Larger Sports Zone following successful 2019 launch
- Industry Network Zone
- Round table events around latest technology advancements
- More content for engineers, CTO's, Heads of Tech, SI's
- More technology exhibitors on the show floor
- New industry partnerships reflecting the changes on our show floor
"This show has a real and achievable strategy moving forward and a team and a business behind it with a true understanding of the industry, and a passion for delivering for our customers and our visitors," said Wheeler.
MPS is part of the Media Business Insight group, publisher of Broadcast, Broadcast Tech, Broadcast Sport and Screen International.
Key brands and manufacturers already making MPS their show of choice for the future include Panasonic, Sony, 3Mills Studios, Fujinon, Fujifilm, Sennheiser, HHB, Jigsaw24, Altered Images, CCK, XTFX, Canon, BT Media & Broadcast, and Holdan.