New look for web-based video editor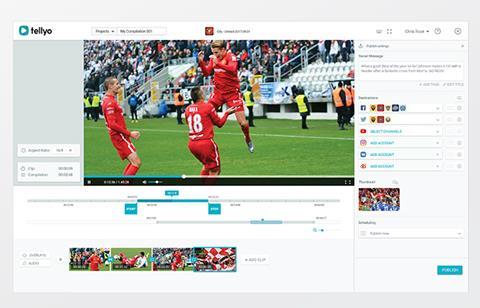 Web-based video editor Tellyo has been updated with a redesigned user interface, to enable easier collaboration and incorporate changes based on feedback from its customers.
Tellyo says the refreshed interface enables users to more straightforwardly configure multiple video feeds, live stream content and create real-time video clips.
The online app is pitched at sports organisations and broadcast companies, for creating videos from live content and sharing them to social media in real-time.
The changes made to Tellyo expand to how it adapts to different platforms and screen sizes. The new user interface is now able to be "more responsive in design" depending on which device is being used.
The updated functionality of the new design includes the ability to edit and share edits on the one screen, rather than being split into different steps. There are also now project templates that can be shared with colleagues and re-used.
Grzegorz Janczura, director of internet projects at Poland-based Polsat Group said: "The new UI will boost [our] workflow to live stream events to social media, clip TV shows for VOD platforms and create real-time clips for social media. The Tellyo platform provides everything our people need at their fingertips."