VFX from Lexhag for Agatha Christie drama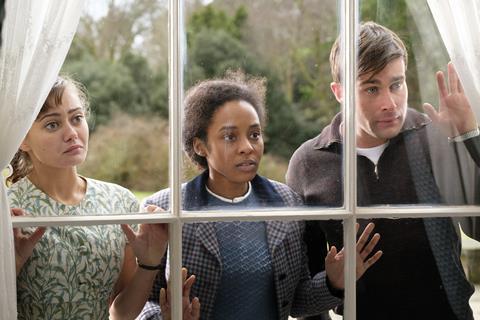 VFX: LEXHAG
The VFX shots on this three-part Agatha Christie whodunnit were delivered before Christmas 2017 – when suddenly it was back to the drawing board.
Six weeks after the main photography was completed, Mammoth Screen and Agatha Christie Ltd had to replace Ed Westwick, the actor playing Mickey Argyll, with Christian Cooke, after sexual assault allegations were made against Westwick, which he denies.
More than 30 scenes and 1,000 shots had to be changed – almost 35 minutes of material. To accommodate this, Lexhag did a shot-by-shot breakdown so a variety of approaches to the scenes could be considered. It was necessary to digitally replace the Argyll character in some of the major scenes as seamlessly as possible.
VFX supervisor Shaun Varney broke down the shots into easy, medium and hard categories. Easy reshoots were thosewhere the full cast were available. For medium, a split-screen approach was used, where new footage was composited into the original.
Sometimes, there were interactions between original and new footage, so framing and timing were key. Hard shots, where performers interacted closely, were more complicated. Here, whole shots were deconstructed into layers and reconstructed into new final shots, splicing together original and new footage.
For lakeside shots, Lexhag programmed the motion-control rig to replicate complex movements and angles to replace the original performance footage seamlessly. All of this had to be turned around quickly – the reshoot took place in February and the team had to hit the Easter transmission deadline.
The show was an Amazon co-pro.