The tech-driven adaptations that enabled BBC Breakfast to continue creating three hours of TV content every day during the Covid-19 lockdown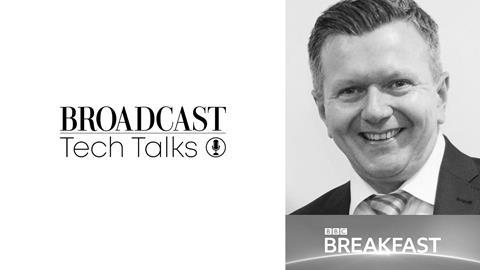 BBC Breakfast editor Richard 'Fredi' Frediani has been in his role for a year. And what a year it's been. It's fair to say coping with the pandemic and its impact on the 20 year old BBC show has been a key challenge he wasn't predicting when he took up the role.
The programme is famously built around the red sofa, with guests dropping into the studio each day. With this no longer possible as lockdown hit, the whole look and feel of BBC Breakfast had to change, almost overnight. The changes were sweeping and affected everything going on in front of and behind the camera.
This podcast explains what happened next, and how the show adapted to enable it to continue producing three hours of television every morning. Standing still was not an option, with Zoom, Skype and Facetime suddenly becoming a central part of the production.
The podcast also covers how BBC Breakfast has managed to continue doing outside broadcasts, including the live broadcast of Captain Tom walking his 100th lap, which went out exclusively on BBC Breakfast.
If you enjoyed this podcast, please subscribe and rate and review the podcast on iTunes, Spotify and the Apple Podcasts or whichever player you're using.