Post facility invests £175,000 in expansion to meet growing demand for production in the city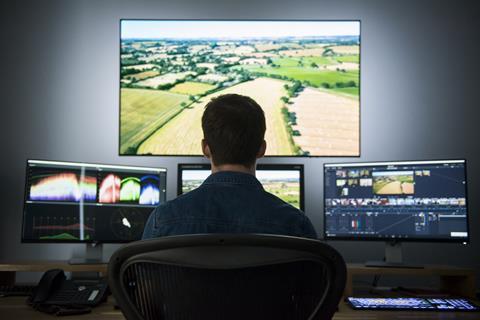 Brighton facility The Edit has expanded, doubling in size to meet demand from a fast-growing production scene in the city, according to managing director Dave Austin.
The Edit has just moved into a period bank building next to its existing premises in the Seven Dials area of Brighton.
As part of the £175,000 expansion into a new wing, The Edit has invested in six new Avid Media Composer offline suites, a dedicated 4K DaVinci Resolve colour grading suite with the option of Baselight Editions, and a 40TB Avid Nexis storage system.
It has also hired extra staff and invested in a new website.
The facility's expansion comes as an increasing number of production companies choose to base themselves in Brighton, with many citing The Edit as one of the enablers of the growth of the TV sector.
Jo Ralling, former head of operations at Jamie Oliver indie Fresh One, recently set up networking organisation the Brighton Production Hub with Austin, hosting events that have attracted commissioners from Channel 4 and Channel 5, including head of programmes Ben Frow, to speak.
Ralling, who is head of communications at The Food Foundation and a director of new indie Rising Tide, said that at least eight new production companies have opened or moved to the city in the past two years, including Middlechild, Screendog, Amazing Productions, Alaska, Blast! By The Sea and Koska.
Established Brighton indies include Ricochet, Lambent Productions and Factory Films.
Lambent managing director Emma Wakefield said there are now 30 production companies in the city, producing more than 214 hours of broadcast TV last year.
"Right now, Brighton is burgeoning. More and more production companies are moving down. And The Edit, for years the go-to place for post in the city, is meeting a new and even more demanding need," said Wakefield.
Brighton has long had a reputation as a base for workers and freelancers from the creative industries, many of whom have relocated from London.
Talent base
Austin cited enhanced regional quotas for UK broadcasters as one of the reasons that more commissions have come to the city, giving new indies the confidence to set up shop. Production companies, meanwhile, say that Brighton has a strong creative talent base to tap into, and that the cost of doing business is cheaper than London – a key factor as broadcasters' budgets continue to tighten.
Brighton was recently shortlisted as one of the possible creative hubs for Channel 4 as it looks to move some of its operations out of London – but did not make it on to the final shortlist because of its proximity to the capital.
Bafta and Emmy-winning documentary-maker Olly Lambert (Syria: Across the Lines) recently moved to the city, to be near family after the birth of his son. "I genuinely thought I'd have to make some professional compromises, but so far it's been great. It hasn't got the scale of London, but work-wise, Brighton takes itself far less seriously and has some great talent."
Lambert added: "And then there's The Edit, which Dave and Lynette run like your slightly oddball uncle and aunt in a quirky house by the station. They genuinely seem to know everyone in the area. In addition, they drew in a fantastic team for the final post of my last film. So I'm feeling very settled. All it needs now is Soho House to open on the seafront and I can convince myself that I never actually left London."
The investment caps a period of rapid growth for The Edit, which was launched in 2006 by Austin, a former BBC broadcast engineer and freelance offline editor. For many years, it was a small, final post-only firm, with Austin as the sole full-time employee doing much of the work as colourist and dubbing mixer, with some help from freelancers.
By 2015, Austin said, "really positive signs about the growth of the TV sector in Brighton" encouraged him to launch a full post-production house – which has since grown from two to 12 suites and now has seven full-time staff.
"I realised I could take the reputation and client base I had built up and grow it into a fully fledged facility," said Austin. "However, having worked in Soho for many years, I knew how high the bar was set and that we had to find excellent, creative people to reach the kind of quality I wanted us to aim for – no less than the best in Soho."
The Edit's recent credits include Blast! By The Sea's Saving Lives At Sea (BBC2), Clear Story's Oceanic Art (BBC4), Ricochet's Food Unwrapped (C4) and Lambent Productions' Emmerdale At War (ITV).