The full post-production for BBC1's lockdown-created EastEnders special was by Storm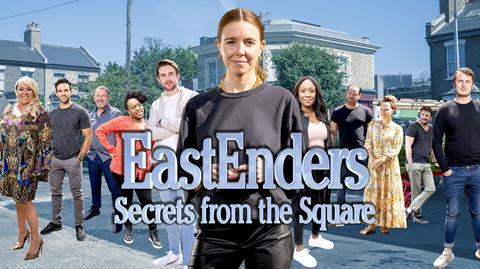 Covent Garden post facility Storm looked after the post-production of this BBC1 episode, which aired earlier this month.
The production, hosted by Stacey Dooley, broadcast classic scenes, behind-the-scenes stories and secrets that are normally kept under wraps.
EastEnders: Secrets from the Square is part of a 14-part series that Storm is remotely post-producing for BBC Studios.
It was all filmed during the lockdown while EastEnders is off air due to the Covid-19 filming break.
Storm's remote set-up for the project included:
Central ingest of all rushes to Storm's Avid Nexis
Full resolution archive download and ingest
Simultaneous nearline back-up of all footage
5 x remote Avid offline edit suites working concurrently, with a producer-director able to watch the editor work
Multiple locations over the UK seamlessly remoting into Storm, with guide VO and music file synchronisation between all collaborators
Producers having the ability to access Avid editorial management to sync pull for press and promo materials
Online and grade in DaVinci Resolve Studio and screen replacements in Fusion Studio (TV screen replacements included tracking, masking and inserts of reflections to help editorial continuity). Grade was mainly to balance cameras. Resolve's OFX plugins, blend modes and adjustment layers helped to polish the offline edit intentions
Remote viewing of interlaced online using Kiloview E1 unit (SDI to NDI HX). This gadget presents a 50i signal as 50p using the NDI monitor app, which keeps the interlaced nature of the signal through to the producers remote viewing desktop
Dubbing mixers having the ability to mix audio on their iPhones
The post-production services provided by Storm included file ingest; archive management, offline, voiceover, audio mix, online, grading, GFX, QC; and delivery.
Post-production credits
Finishing Editor Paul Ingvarsson
Dubbing Mixers David Ingram, Tim Wheeler
Technical Assistants Egli Keli, Rob Bradley
Post Producing Team Anna Beaven, Becky Niblett