The online edit and extensive audio post-production work explained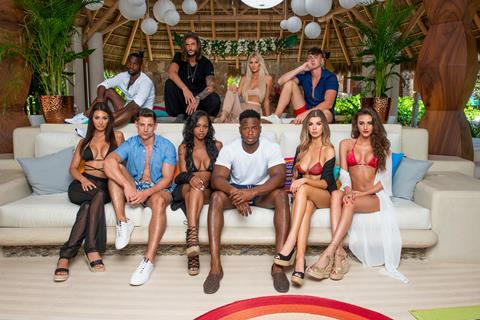 This nine-part reality series from Talkback for Netflix was posted at Envy. Online editor Dicky Everton and dubbing mixer Andy Hodges explain their work on the production below.
Dicky Everton said:
"For the online, the brief was to create a visually compelling series with a unique graphic style, using optical and VFX elements to bridge stories.
The producers absolutely knew what they wanted to achieve visually and the offlines were finished to a very high level. I took the sequences and ensured all elements were working in harmony – creating fun and exciting visual punctuation throughout each episode.
As I worked through the series I continued to develop further looks and optical transitions. To ensure a congruent finish, whenever these change were made I would go back to previous episodes to see if the new elements could be integrated."
Hodges said:
"The mixing brief for Too Hot To Handle was to make the show fun and clear while making it flow as nicely as possible. The producers were an amazing team to work with and gave us creative freedom to really help shape something special.
The main challenge in the mix process was to make all the dialogue comprehensible. One consequence of shooting in such a beautiful location (on the coast of Mexico) is the uncontrollable background noise from the surrounding waters, which will ultimately spill in to post-production. Similarly, there were several other variables that contributed to microphone disruption - such as the contestants' clothing and bedding.
To refine the audio I reduced as much of the unwanted noise as possible using Izotope RX 6 software and plugins. This process consisted of heavy dialogue isolation which was then layered over the original audio, resulting in the majority of the desired audio sitting proud.
I followed this up with some equalisation to sharpen the clarity even further. From here it was important to find a delicate balance with the mix; ensuring that the dialogue was maintained at a consistent level.
An interesting element is that the series also features 5.1 surround sound to provide a more immersive experience, which is quite unusual for a programme that is primarily dialogue.
We used the 5.1 space to complement the onscreen visuals and deliver atmospheric and ambient sounds effects such as sea-wash and distant ocean.
In line with this, the chosen music throughout the series was a great complement; with brilliant, summer-vibed songs which completed the desired auditory style of the show, and also upscaled from stereo to 5.1 using select plugins within Pro Tools."