The VFX house created 200 shots during lockdown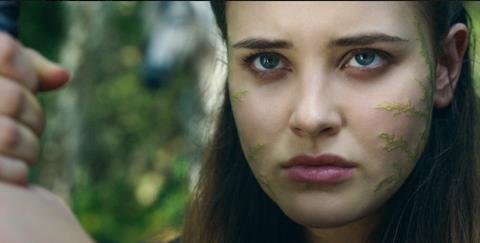 Freefolk has delivered 200 VFX shots during lockdown for Netflix series Cursed.
The fantasy series is set in the Arthurian legendarium, with Freefolk producing "vast and varied VFX" to create a believable re-imagination of the mythical world.
Freefolk's team was led by VFX supervisor, Steve Murgatroyd; head of CG, Harin Hirani; and VFX executive producer, Meg Guidon.
The VFX work included creating large scale environments for the Fey Camp, the Weeping Monk and the Convent of Yvoire, along with a fully CG, photo-real fawn, CG set extensions, storm atmospherics, elements and intricate design work for the Fingers of Airimid.
Murgatroyd said: "The Fingers of Airimid appear on the face of Nimue, her mother Lenore, as well as other Fey elders. The 'fingers' take two forms: an angry, spiky look and also a magical design that is more leaf-like; the effect is activated when the Fey people are overtaken by the powers of the 'Hidden'. It took a lot of design work to get the final look locked down."
Another of Freefolk's sequences is a 40-seconds of woodland engulfed in flames and burning Moonwing creatures. The environment is designed and modelled entirely in CG. The burning forest behind the blue screen live action of the Weeping Monk character was created through Houdini simulations of fire, smoke, and embers.
The Freefolk VFX crew created the effects in lockdown, working from home setups.VFX executive producer, Meg Guidon said: "It required remote wrangling and efficient line production skills to ensure the workflow didn't falter - with a strict routine put in place for dailies and turnaround of notes."
Cursed producer, Alex Boden, said: "We really appreciated the close collaboration with the whole creative team that delivered some of the key VFX on Cursed as well as their work on the teaser trailer for the show."