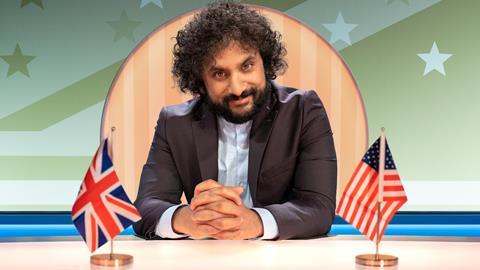 The Farm Group is completing full 4K UHD and HD post-production on this 26 x 8-minute satirical series for Quibi, which runs until October 2020.
The Jax Media produced format sees British comedian Nish Kumar tackle US Politics.
The series goes out twice weekly, and is recorded on Fridays at 7am in Riverside Studios. The Farm editor Del Shoebridge begins the remote edit at 7:30am, crafting both a vertical and horizontal version of the show, including graphics and archive prepped by The Farm editor Johnny Saunders the night before.
The archive content is also checked to ensure it's suited to be switched between the vertical and horizontal formats. Both versions are reviewed and tweaked if required, before being mastered and QC checked, before a fast-turnaround delivery to Quibi for 11am.
The episode is streamed the same day.
The series is post produced by The Farm executive post producer, Chelsea Chandler.