Suite Post completed the work on series two of the UKTV original.
Hit UKTV Original Meet The Richardsons, starring married comedians Jon Richardson and Lucy Beaumont, has returned to Dave for a second series (8x40').
Written by Lucy Beaumont and Tim Reid (Car Share) and produced by Second Act Productions, Meet The Richardsons offers a fictional window into the funny and frustrated marriage of Jon and Lucy.
Lee Clappison, head of grading at London's Suite Post returned to the series to complete the grade, using DaVinci Resolve Studio.
After the first series of Meet The Richardsons was received well, the instructions to Clappison were 'more of the same please'. That materialised in to a heightened look for the series.
"It was always meant to be as natural as possible but perhaps with a slightly warmer, sunnier edge. To feel like it was a real fly-on-the-wall documentary but everything was filmed on the nicest day possible," he explained.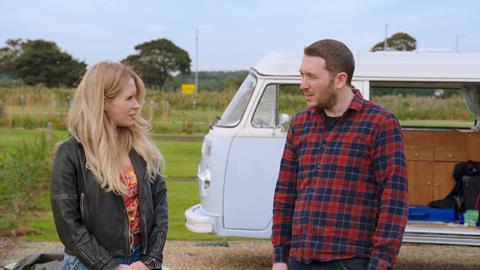 "As I had graded the first series I had the time and confidence to refine the look from what I had already given them. There were however a couple of conversations early on in the shoot to iron out a few queries regarding footage that was due to be shot on an iPhone. My take on it was that as it was meant to be shot on a phone we weren't trying to match it to anything. So if it was meant to look like phone footage we could basically use it as it was."
Of course keeping it natural often meant living with the exposure artefacts of a 'keeping it real' shooting style like blown out windows and darker parts to the interiors as the actors moved about. Lee took advantage of these by-products.
"There wasn't necessarily a need to always correct for these, unless needed," he said. "Sometimes we even embraced this and pushed it further. For some of the window blow outs I used Resolve's Keyer for the top end, combined with a parallel node to nudge the exposure down a fraction and just sit it down to get a bit more detail."
The new series still has the show-within-a-show sitcom concept which gave Lee freedom to grade it appropriately.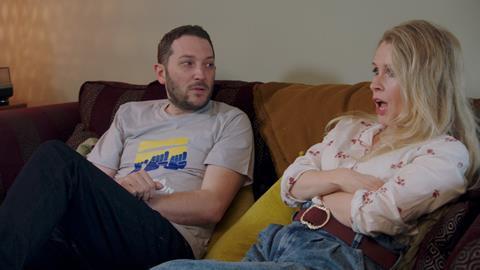 He added: "It was fun to play with a slightly different look when it came to the scenes that were meant to look like a studio filmed sitcom."
In another episode The Richardsons visit Bridlington for a camping holiday which gave Lee the chance to enhance the late evening sunset light. He revealed: "It was really fun to play with this and enhance the warm tones of the late summer sun."
The current series is showing on Dave, with the next episode airing on May 6, 2021 at 10pm (GMT).