Partnership with Utopia Music will track music usage in broadcast and radio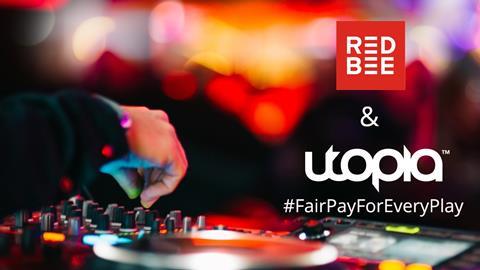 Red Bee Media has partnered with music fintechUtopia Music to track and report music usage on TV and radio.
Red Bee Media will provide Utopia Music with 24/7 audio feeds of over 9,000 TV and radio channels across EMEA so they can be analyzed to ensure rights holders are accurately and fairly paid for the use of their music, whenever and wherever it is played. The service also helps TV program makers and broadcasters track and publish their use of music.
Currently, broadcasters and content producers have to create cue sheets listing usage to hundreds of music rights holders or representatives. However, after this agreement, Red Bee Media's Connect service will be employed so that TV and radio channel feeds can be downlinked and processed in Utopia's unique data Platform, which currently holds 213 billion historic music consumption data points from over 194 countries. Through the partnership, Utopia will be able to track the real use of music, including unlicensed uses.
Markku Mäkeläinen, CEO of Utopia Music said: "Utopia is on a mission to level up the entire music industry by providing access to clear, transparent, and reliable data-based solutions.
"Currently in TV, the obligation primarily lies with the program producer to declare what music is being used and when, which is time and resource heavy. What we are doing by partnering with Red Bee Media is making this process simpler, faster, and more transparent for everyone, so that we can deliver fair pay for every play."
Steve Nylund, CEO of Red Bee Media, added: "It is hugely exciting to see Utopia's truly unique adoption of our Connect service, making music rights payments simpler and more accurate for everyone.
"Utopia is using this service to meet a significant challenge in a unique and innovative way. We are delighted to work with them to make it easier for all content owners and distributors to meet regulatory requirements and ensure payments are going to the right places to support the entire music industry.