Ultrix Carbonite builds on the release of Ultrix Acuity earlier this year.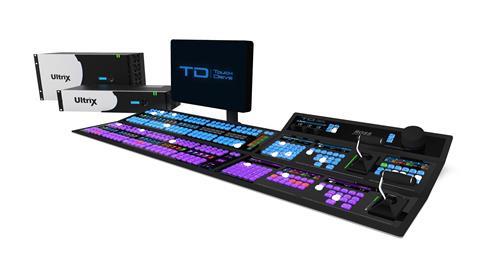 Ross Video has launched Ultrix Carbonite, an integrated solution combining the routing and AV processing of Ultrix with mid-size production switcher Carbonite.
Compared to the racks of equipment that it is replacing, the Ultrix Carbonite uses less power, takes up less space, and requires less cooling. There are also fewer maintenance requirements and inter-rack fairlure points.
Aimed at mid-sized facilities facing the challenges of mixed or changing signal formats or connectivity schemes, the Ultrix Carbonite give flexibility by allowing any of the three available Ultrix I/O boards (SDI, IP or SFP) to be installed in available slots and mixed as needed.
Space is saved as each Software-Defined Production Engine (SDPE) can be installed in either an Ultrix FR2 or FR5 frame and provide up to two Carbonite M/E banks and MiniMEs. This means a 2RU chassis and 1RU redundant power supply frame can provide a complete, multi-M/E production switcher and a flexible routing platform that can operate in either HD or 4K UHD.
It is also possible to produce in HD and 4K UHD simultaneously, by installing multiple SDPE blades, configured as Carbonite switchers, in a single FR5 frame.
This helps smaller technical facilities or OB vans, by eliminating the need for audio processing, framesync and MultiViewer hardware, as well as the inter-rack cabling typically required in traditional system designs. New features and functionality can be added without hardware replacement.
Nigel Spratling, VP of switchers at Ross, said: "The combination of Ultrix and Carbonite brings together the best of Ross innovation with an incredibly powerful feature set, directly addressing customer requirements for greater efficiency and improved value. This really is a powerhouse solution and I know our customers are going to get enormous benefit from it."