UK lighting firm had accused Dutch rival of infringing the design of one of its LED portable lights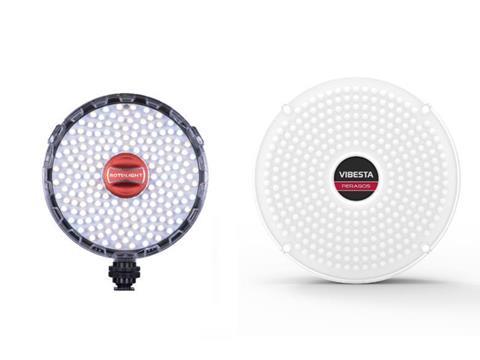 Lighting firm Rotolight has lost a court case that it brought against rival firm Vibesta, which it had accused of creating a "slavish imitation" of one of its LED portable lights.
The dispute centred on Vibesta's Peragos Disk product line, which Rotolight said infringed the design of its Neo product range.
However, the District Court of The Hague, in a preliminary decision, ruled in favour of Vibesta.
The Court ruled that Vibesta's Peragos Disk does not infringe on the community designs of Rotolight and isn't a slavish imitation of Rotolight's Neo lights either.
The Court has ordered Rotolight to retract its statements.
Rotolight has also published a statement on the front page of its website which says: "We have to make clear that Vibesta did not infringe our Community Design Rights by offering the Peragos Disk to the distributors and customers. The Peragos Disk isn't a slavish imitation of the Rotolight Neo-lights either. We emphasize that the onward sale of the Peragos Disk will not be an infringement of our Community Design Rights. We apologize for the inconvenience we have caused to your company and to Vibesta."
Pinewood-based Rotolight told Broadcast that it was surprised at the judgement and that it planned to appeal. "Whilst we respect the judge's opinion, this is a preliminary ruling only, and we plan to appeal. We are confident to ultimately prevail in the months to come".
Dutch firm Vibesta's Peragos Disk and the Rotolight Neo product range are both are circular, lightweight and portable lights that can be used for video and stills shooting. Both can provide continuous light or be used as a flash.
Last month, Rotolight served a writ of summons and sought an interim injunction for design infringement and "slavish imitation" of its product.
However, Vibesta contested the allegations, saying Rotolight has "no solid grounds" to accuse Vibesta of infringements, adding that its claims "could damage its reputation and harm its sales network in order to prevent competition".