VR film places users at the heart of Orchestra during final ten minutes of Mahler's Third Symphony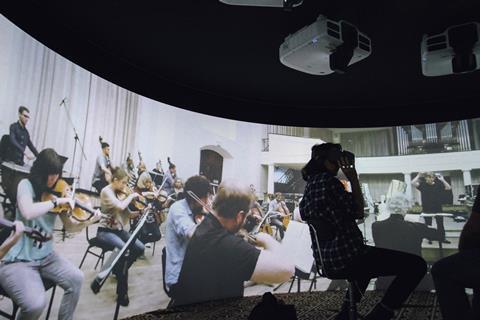 Satore Tech has completed VR post production for Philharmonia Orchestra's latest VR film, Mahler 3: Live from London.
The VR experience was debuted at the Royal Festival Hall last week, alongside the opening two concerts of the Philharmonia's new season.
It places users at the heart of the Orchestra during the final ten minutes of Mahler's epic Third Symphony, which was filmed live in October 2017.
The concert was filmed live, in 360 degrees, with no retakes using Google's latest Jump Odyssey VR camera.
Stitching was completed by Sartore Tech's lead Sergio Ochoa using the SGO Mistika post-production suite, which Ochoa helped to develop during his time at Mistika.
Stitching 360 footage of a live orchestra is challenging due to the constant movement across the canvas, with a lot of detailed movement (bows, batons, other instruments) – often across multiple stitch lines.
This meant that Ochoa was working with four-five different depth layers at any one time. The amount of fast movement also meant the resolution of the footage needed to be up-scaled from 4K to 8K to ensure it was suitable for the VR platform.
Philharmonia Orchestra has been working with VR since 2015, helping it connect audiences to the Orchestra in new ways. Philharmonia Orchestra head of innovation & partnerships Luke Ritchie said: "VR allows you to sit at the heart of the Orchestra, and our VR experiences can transform audiences' preconceptions of orchestral performance – whether they're new to Classical music or are a die-hard fan."
Ochoa said: "It was challenging given the issues that arise with any live recording, but the ambition and complexity is what makes it such a very suitable initial project for us."