Disney to start shooting across four stages next year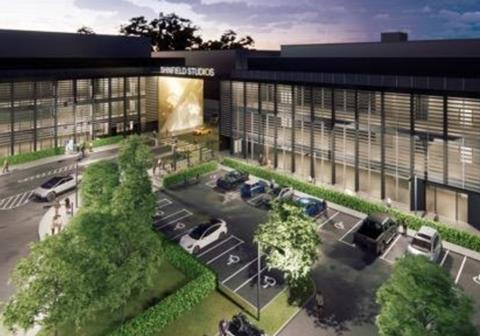 An 18 sound stage studio facility in Shinfield, Berkshire, has just received planning permission from Wokingham Borough Council.
The facility is within the Thames Valley Science Park and, once fully opened in 2024, is set to become one of the largest film and TV studios in the UK.
The studios expect to generate total inward investment to the UK economy of around £600m each year.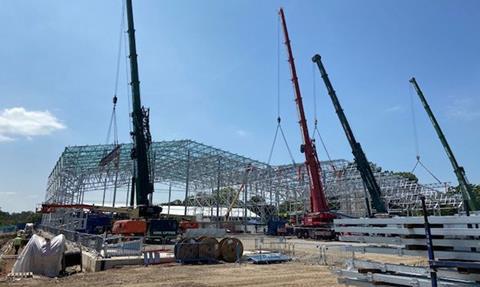 Four sound stages at Shinfield Studios are already ready for operation (pictured above, in construction), after receiving accelerated planning permission, and will next year house an unnamed Disney production.
Shinfield Studios will house 18 sound stages, workshops and offices, and a post-production / screening facility designed to "service the largest film and television productions."
Construction on the entire facility will begin immediately, with a further nine stages due to open in 2023, with completion of the entire 18 stage facility by the end of 2024.
Shinfield Studios has been designed to embrace sustainable production and practices and all buildings will be constructed to BREEAM excellent standards. The site won't use any natural gas and will adopt the use of solar panels. Through the integration of low and zero carbon technologies a typical reduction of 20% carbon emissions will be achievable.
The studio is being created and will be operated by Blackhall Global Partners, which also owns Blackhall Studios in Atlanta, America, and is developing a new 19-stage facility in Santa Clarita, California.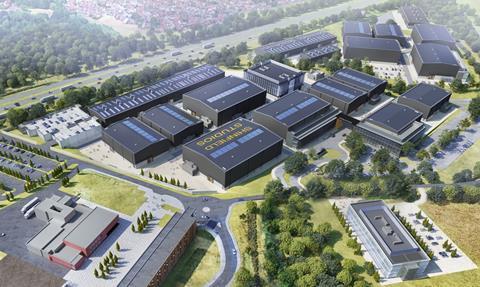 Nick Smith, joint managing director, Shinfield Studios, said: "We are incredibly excited about the potential for Shinfield Studios, both as a significant contributor to the thriving UK film and TV industry and for its already proven ability to attract the world's foremost storytellers and producers. Our goal has been to move rapidly to support our clients who need to secure space from next year."
Ian Johnson, joint managing director, Shinfield Studios, added: "It's well documented that there is an ever-growing demand for studio space in the UK and we're thrilled to be able to take advantage of this and create a world class home for the film and TV community within Berkshire."
Adrian Wootton OBE, chief executive of the British Film Commission, said: "The UK has never been more attractive as a film and high-end TV production base. Indeed, the demand for filmed content continues to grow exponentially, so it is critical that we respond by supporting an increase in studios and stage space capacity, in tandem with significant skills development. Shinfield is an important new development, which will help considerably in continuing to draw production and investment to the UK."
Adam Fisher, co-principal shareholder of Blackhall Global Partners and founder and chief investment officer of Commonwealth Asset Management said: "As we explored expanding our footprint outside of America it was the obvious choice to invest in a market which had the dual benefit of a rich and well-established pool of production talent, alongside a long history of attracting large-scale productions. The UK has always enjoyed a reputation as a world-leading home for film and TV production, this is only set to grow over the coming decades."
Alan Howard, co-principal shareholder of Blackhall Global Partners, added: "The UK enjoys a strong reputation for creative excellence and it is incredibly rewarding to be in a position to contribute to the continued growth of the TV and film sector with the establishment of Shinfield Studios."