Collection of 50+ cooking and cleaning sound effects offered as a free download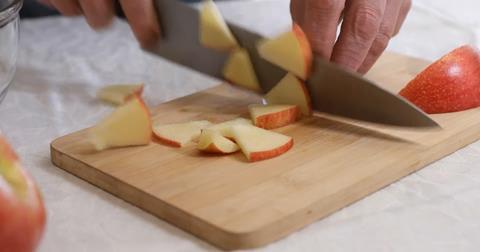 Shutterstock has created a free pack of more than 50 sound effects with different cooking, cleaning, and utensil sounds you might hear inside a kitchen. They have been designed to be used in food and recipe videos.
Logan Baker, a Shutterstock freelancer who created the pack from his home during isolation, spoke to Broadcast Tech about how it was done.
"The idea to start producing these sound effects started from scrolling through YouTube. People were starting to make more cooking videos and creating their own channels in lockdown, and we were seeing an increased demand around food and recipe-related visual assets in both image and video searches on Shutterstock.
So, we chatted about these and I volunteered to create this pack of free sound effects to help increase their production value. Sound effects give scenes more depth and atmosphere, and can make scenes feel more alive.
I'm currently staying with my partner's family in Philadelphia and they host incredible family dinners every night. I realised there were so many sounds I could be capturing, just from inside the house.
I've planned to make a multi-part series, offering different packs of effects to producers. I'm currently working on sounds in the garden, using objects like a rake to make the effects. There are other home sounds I want to capture while in lockdown, like floorboards creaking and the vacuum cleaner.
Where I am currently living, I don't have my premium recording gear with me. However, I do have access to an audio recorder (Zoom H4N) and a microphone which I used to capture some of the effects.
I had to be resourceful using what I had around the house, so I taped the microphone to the end of a back scratcher to use as a boom. After several runs, I found that some of the sounds weren't translating as easily as I had hoped using the audio recorder.
I ended up using my iPhone for most of the recordings, using the voice memo app. It is an effective way of capturing the sounds and the files are easy to edit on the computer once uploaded. The chances are you always have your phone to hand too, so it's easy to capture something in the moment.
It took me about five or six hours of recording time to create the effects and two days in total to get the pack live.
Living with six other people and a dog meant I had to block out time to keep everyone as silent as possible, which was a challenge. It was also fun to get the family involved, clinking glasses for example.
The effects can be tweaked to fit whatever speed you're chopping, grilling, or playing with utensils. They are designed to blend into the background of your scene."
You can download the sound library for free from here.