Global leaders in AI discuss the future of TV production at Al Jazeera conference in Qatar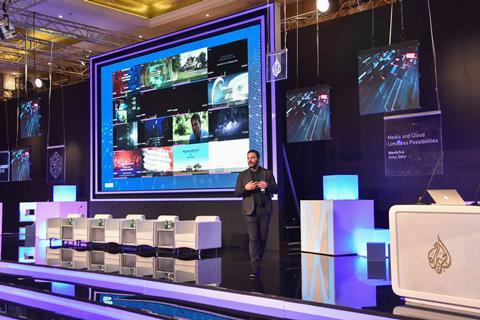 Algorithms will play a growing role in TV production, enabling automatic multi-camera directing and video editing, according to artificial intelligence (AI) and machine learning (ML) experts at a conference held by Al Jazeera in Qatar last week.
The 'Future of Media Leaders' Summit' brought together specialists from broadcast and tech companies, including the BBC, Google and Microsoft, to debate how high-tech tools are changing the landscape of TV production.
BBC head of emerging tech Ali Shah (pictured above) brought the debate to life by playing an algorithm-created live cut of a comedy panel show, to demonstrate the possibilities of AI.
It didn't match the seamless framing and cuts of a human director, but it's early days, and the logic is that machine learning will continually enhance the abilities of AI.
Shah said the BBC doesn't want to replace live directors with algorithms, but is interested in looking at how AI could be used as a cost-effective way to create content that might otherwise not be made.
The summit also heard from Yves Bergquist, chief executive of the University of Southern California's Entertainment Technology Center (ETC), who is heading up a number of AI projects that simulate the cognitive abilities of the human brain.
The applications for ETC's work include measuring 'audience genomics', where 'interestingness' and 'emotion' are measured in the mass of social media posts about TV programmes and then correlated with TV ratings, to discover any connections between the two.
Measuring emotion
It is also developing an AI product called Snowflake, which scans TV and film scripts to show the comparative levels of different human emotions contained within. In addition, it analyses the colours of different scenes for mood and likely audience response. The ultimate aim is for ETC to create a 'meaning code' for every frame, to measure its cognitive impact. Quite what all this data might practically be used for is difficult to tell.
Whatever its applications, AI and ML are expected to be recurring themes at NAB this year. Last week, live sports tech vendor EVS previewed a series of AI-driven initiatives at its HQ in Liege, Belgium, ahead of NAB. It's first use of AI is to automatically generate the offside line in its VAR tool Xeebra, while it's also researching how AI can be used to automatically direct the angle of robotic cameras in stadiums and to create high-quality slow-mo images from regular cameras.