A round-up of the sessions that took place in the Tech Innovation Room at Broadcast TechFest 2021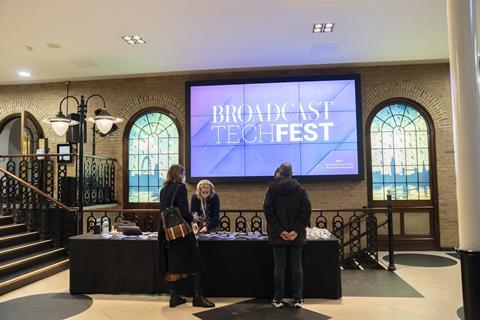 The Broadcast TechFest 2021 took place on Tuesday (30 November) at The Brewery in London. It was a comprehensive one-day event for the production and post industry, with around 400 attendees throughout the day.
The extensive programme was spread across three conference rooms (Tech Innovation, Creative Tech and Tech Hub) and an exhibition and networking space. The programme covered a wide range of topics across production and post-production, including:
Acquisition, post, cloud, storage
The future of Soho and remote working/production
Case studies from the makers of the best content on our screens
Technical case studies covering everything from VFX to grading
The TechFest event was supported by our sponsors Blackmagic Design, AMPS, Elements, FinalPixel, Grabyo, Grass Valley, Iron Mountain Entertainment Services, ITV Content Delivery, Medialease, Never.no, Panasonic, Pebble, Pixotope, Quantum and Rise.
Below is a round-up of highlights in the 'Tech Innovation' room at TechFest.
TechFest 2021 – Tech Innovation Room
10:00 In Conversation with… Adele Fletcher, AMPS

Chair: Andrew Wilson CAS AMPS, freelance re-recording mixer
Speaker: Adele Fletcher AMPS, dialogue and ADR editor
This session saw highly respected BAFTA-winning sound editor Adele Fletcher AMPS talk through her career path, the importance of good dialogue in a soundtrack, and the way the sound post industry is moving toward a more diverse and creative future. Fletcher specialises in dialogue and ADR, with credits including Peaky Blinders, Spencer and No Time to Die. She is also currently vice-chair of the Association of Motion Picture Sound (AMPS).
During the discussion, Fletcher talked about the current all-time high demand for sound work, with a proliferation of streaming services working a long list of high-end TV productions in the UK. She said: "Now more than ever the film industry is booming – it was previously feast or famine, and now there are so many studios being built and expanded [to keep up with demand]. There are so many platforms now – Apple TV, Amazon, Netflix – and the standard is going up. The HETV shows are paying just as much as the high-end features too."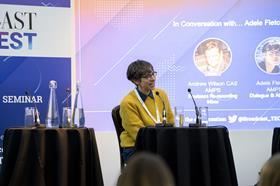 However, she added that there's still a marked lack of diversity across production and post-production teams: "Generally I'm the only women in the room on certain projects and that has to change. The crews are white too." She further said that, rather than reaching out to a wider talentbase, it's a matter of who you know, in terms of finding out about job opportunities in the first place. She said: "The film industry is a closed shop – jobs just don't get advertised."
11:00 Does XR Mean the Death of Post-Production?
Chair: David Dowling, chief revenue officer - Pixotope
Speakers: Kevin Cooney, creative director - The Level UK; Lou Doye, executive producer - QXR Studios/ loudoye; Simon Kanjee, managing director – Evolutions; David Levy, director business development, Global Solutions – Arri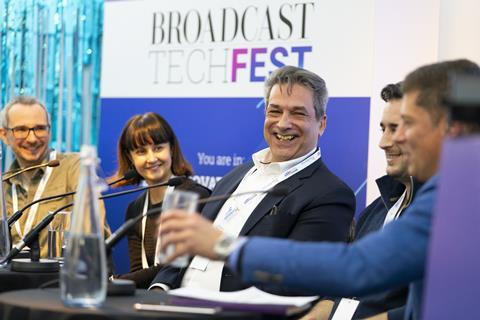 The adoption of virtual production, and in particular eXtended Reality (XR) in-camera visual effects, has led to increasing examples of visual effects being captured 'live' through mixed reality production techniques, rather than in post-production. The panel looked at the notion of 'fix it in pre-' as opposed to post-production, and the role, if any, post facilities will have to play as more and more productions go down the virtual production route.
Simon Kanjee simple replied: "You're funny", when asked if post-production would die off if virtual production becames the norm. He added: "We've always been consultants, coming up with different creative solutions to problems – this is no different to anything else we've ever done. We've got to embrace virtual production and work with manufacturers to understand the tech better. Post-production can integrate it into the Avid world. You see [productions such as] The Masked Singer and the next generation application of that would be XR – we need to offer a packaged version [of virtual production services] to work with that."
Kevin Cooney said a mixture of technical, talent and workflows are key challenges for XR: "The workflows aren't in place. We've all got to get together – post, broadcasters, film companies – and build these workflows. And a lot of games designers don't want to move into the media world, so finding the skillset that want to be on-set is going to be a challenge."
David Dowling added: "We're going to universities and colleges to try to capture the minds of Gen Z and attract them to production. It's a tough gig as it's a hard life working in production. It's much easier working 9-5 at Codemasters. And you probably get paid more in the games world too."
Lou Doye said: "There's lots of perks and bonuses, but it's not so creative. If you want to work on great stories and put some art out into the world, you won't find that at the tech companies."
Meanwhile, David Levy summarised by saying: "We need to simplify and improve the experience. At the moment everything is in the clunky phase. The post-production sector is best placed to make it more straightforward."
11:45 Cloud Engagement: How Content Producers are Using Cloud-Based Solutions to Enhance Audience Engagement
Chair: Alex Humphries-French, Head of Marketing & Communications - never.no
Speakers: Ed Abis, managing director - never.no / Phil Goodall, senior manager, Broadcast Operation – QVC / Cassandra Kyeyune, assistant producer – ITV / Stephen Neal, live director, 'The One Show' - BBC Studios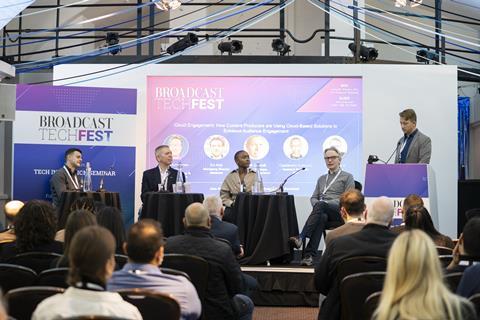 This panel highlighted how broadcasters and digital content producers are connecting with their audiences using the latest innovations in technology.
Phil Goodall at QVC said: "We're live 16 hours a day, and finding ways to engage our audience is very important to us. More people started watching QVC during the pandemic, and to enable them to interact with us more easily, we integrated never.no into WhatsApp to create an interactive community of shoppers. They like using WhatsApp as it eliminates any concern they might have about sharing comments on social."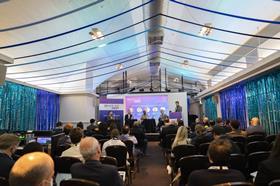 Cassandra Kyeyune, talking about working on the Martin Lewis Money Show Live, said: "We have three million viewers on a live 22-minute show and get overwhelmed with questions. Our biggest challenge is filtering through them all, especially as the comments we show on screen aren't passive – we need to answer them, so we have to be quite vigorous in filtering them."
"We have quite an old audience and a lot of them are most comfortable with using email to contact us. Facebook is also big, though it's more difficult to filter comments on Facebook compared to Twitter. Twitter is massive for us during a show, and it's easy to pull from that during a show."
12:25 Remastered and Re-Loved
Chair: Bethan Wilkin, head - ITV content delivery
Speakers: James Macmillan, business development manager - ITV Content Delivery / Craig Morris, head of editorial - Britbox UK
This session offered a breakdown of the core values and approach to film restoration from the team at ITV Content Delivery. The team talked about the impact the work has had on BritBox's audience.
13:15 IP Connectivity
Chair: Alison Pavitt, marketing director - Pebble
Speakers: Ian Wagdin, senior transfer technology manager – BBC ; Marc Risby, managing director – Boxer Systems
The panel discussed the benefits of moving from SDI to IP connectivity for facility builds, explaining how IP works to reduce cabling, add a great deal of flexibility in operations, enable high-resolution workflows and future-proof expansions and new building installations.
14:00 Post Production Uncovered | Vigil
Chair: Jake Bickerton, Editor - Broadcast Tech & Sport Group
Speakers: Colin Brown, Colourist - Blazing Griffin Post Production; Jon Bruce, Colourist & Online Editor - Blazing Griffin Post Production; Johanne Wood, Post Production Supervisor - Blazing Griffin Post Production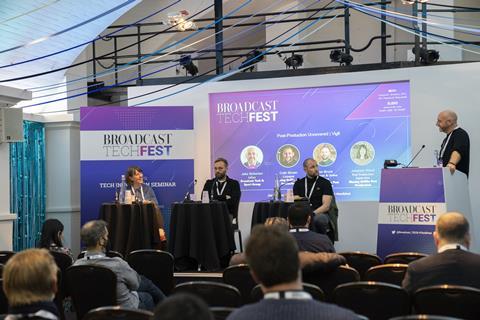 Employees of Glasgow's Blazing Griffin Post Production discussed their work in delivering the grade, online and finish for hit BBC drama Vigil. The talking points included the logistics around organising and implementing an ambitious post-production schedule during a global pandemic; how a surge in high-end dramas such as Vigil is benefiting Scotland's production landscape; the creative challenges in developing Vigil's look with SDR and HDR deliverables; and how Blazing Griffin overcame challenges in the online and VFX using DaVinci Resolve's Collaborative Mode.
The shoot and assembly edit of Vigil began in early February 2020, then when lockdown hit the editors were forced to cut at home using Evercast. Things were up and running again by August, then in January 2021 Glasgow was fully locked down again and the DP and director couldn't travel up to the city for the grade. Instead, Blazing Griffin worked remotely using Sohonet Clearview and sent a calibrated ipad Pro to the director and DP. Johanne Wood explained how the company handled all these challenges.
The aim was to make Vigil look like a feature film, but with an updated look associated with classic sub movies like the Hunt for Red October and Crimson tide. Colin Brown explained the grading process and the timescales for the grade in detail during the session.
Meanwhile, Vigil had a huge VFX requirement, which was handled by VFX house Goodbye Kansas. However, with the focus for Goodbye Kansas being on submarine builds and set extensions, there was a lot VFX-quality work needed in the online too. This included sky replacements, land paintouts, screen comps and adding smoke, all of which were completed using Fusion on the timeline, as Jon Bruce explained in the panel discussion.
14:40 AI in Broadcast: Creation, Innovation, Adoption
Speakers: Jamie Allan, Media, Entertainment & Broadcast Industry Lead - NVIDIA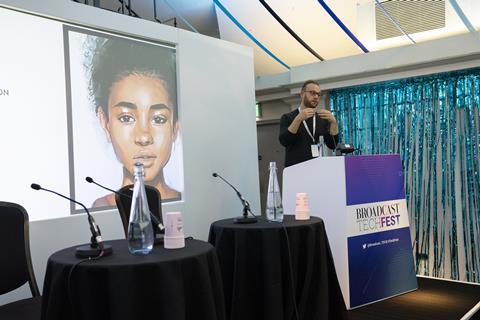 Jamie Allan, head of media, entertainment and broadcast for EMEA at NVIDIA talked through the state of AI in the broadcast industry today and what should be considered when looking at bringing AI into a media organisation at scale.
15:10 Sustainability in Production - What Should We All Be Doing

Speakers: Andy Beale, chief engineer - BT Sport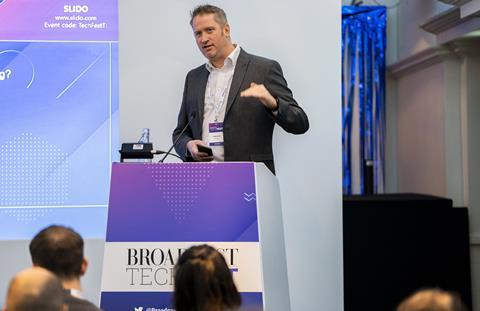 Andy Beale talked about how BT Sport aims to become a more sustainable broadcaster, contributing towards BT Group's target of curbing its carbon emissions to net zero by 2030.
15:35 Technology: State of the Nation
Chair: Cara Kotschy, Post Production Consultant
Speakers: Mun Wai Kong, CTO – Grabyo / Taig McNab, group head of technology - All3Media / Tom Witkowski, director of technology & engineering - Twickenham Studios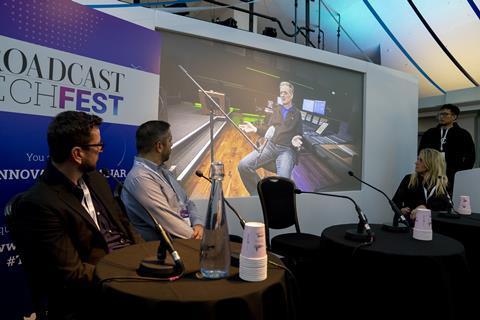 This panel discussed the impact of the last year on technological advancements and how technology has changed and accelerated due to the pandemic.