VFX house's photo-real CG creatures play a central role in World Animal Protection's 60-second film for World Animal Day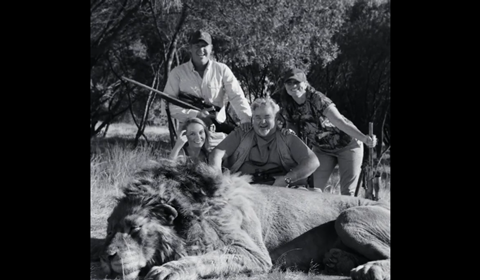 The Mill has created a series of highly realistic, photo-real CG animals for a new World Animal Protection film.
The 60-second film, produced by All Mighty Pictures, was made to mark World Animal Day, and centres on showing how animals are used for sources of entertainment, for sport or in other ways exploited for profit.
The Mill's work includes performing elephants and a lion caught by trophy hunters. The World Animal Protection organisation says the life-like look of the CG demonstrates how VFX can be used as an alternative to abusing animals in the film industry.
The film will be shown across TV and cinema in the UK, Latin America, Australia, New Zealand and Europe.
Mike Chapman, joint head of 3D, The Mill said: "We worked closely with All Mighty Films and World Animal Protection to ensure we captured the reality of the cruelty. Using real life references (that were often hard to watch) we created a fully CG elephant with photo-realistic muscle system and animation to perform a handstand, and vignettes showing distress and panic. It proves CGI can be used to alleviate the need to use real animals in front of the camera. We are really proud to be part of the team that has created this film and helped tell these stories."
Georgie Bradbury, Global Head of Marketing at World Animal Protection added: "This film sends shivers down my spine and makes me unbelievably proud to be working for World Animal Protection at such a crucial time for animal welfare. People around the world are really beginning to wake up to the suffering that we, as humans, are inflicting. This film captures the essence of that exploitation, and I hope it will spur many to join us to speak out against animal cruelty and end it once and for all. Animals deserve a life worth living."
Anthony Dickenson, director at All Mighty Pictures, said: "There are some things in life that are simply unfathomable. Animal cruelty is one of them. The more I researched, the more saddened I became about what we are capable of doing, but also more determined to make a film that could make a difference. I think lack of awareness is one of the greatest challenges. I hope the film will go some way to addressing this."
The film was shot in South Africa with actors who worked with representations of the CG animals featured, using a variety of techniques to create the reality. The lion was filmed using a large soft stuffed toy. Meanwhile, the a clown was used to gain authentic reactions from the crowd for the scenes with the elephant. The dog fighting scene is the only scene that features live animals.