Hire firm Video Europe is building a single expanding OB truck that can be used for live production using digital cinema cameras.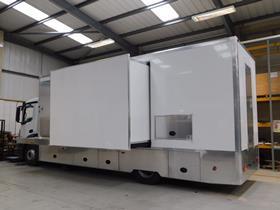 Designed for 4K and HD, as well as High Dynamic Range (HDR), the unit will offer producers the chance to get a 'film look' on multi- camera shoots, the company said.
The 12G-SDI truck will feature a SAM Kahuna vision mixer, a Calrec audio desk and an RTS intercom. A DTS live broadcast fibre transport system will be used to allow Arri Amiras and other digital cinema cameras to operate as system cameras, complete with tally, talkback and control.
An HDQline broadcast monitor stack will be installed for HDR monitoring. The SonoVTS-developed devices enable Look Up Tables (LUTs) to be loaded directly into the monitors.
Atomos Sumo HDR monitors will also be on board.
The new unit is being integrated by WTS Broadcast Systems ready for a September launch. Once available, Video Europe expects it to attract the attention of producers of live drama, music, arts, theatre and events.
Sony HDC-4300 cameras and EVS replay machines will be available should the truck be required for sports coverage.
Although Arri cameras don't have 4K sensors, the truck will be able to "produce a 4K formatted video signal" when using them, said engineer and head of the Video Europe Live department Richard La Motte.
He added that although the investment was speculative, various customers had enquired about getting a film look on a multi-camera live shoot. "Lots of people like the Arri look," he said.