It has added a new mixing studio and upgraded its main studio to Dolby Atmos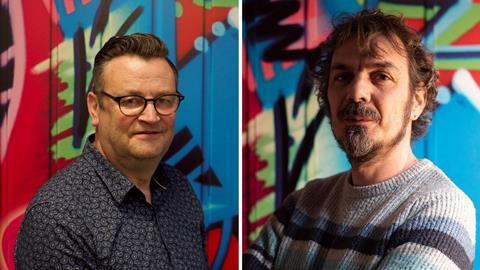 Virtual Post has restructured its audio team and upgraded its facilities.
Jon Gray arrives as Head of Audio, having been freelance beforehand. He has worked on the likes of Anyone Can Sing and the Queen's Speech, with 15 years' experience as a dubbing mixer. Before going freelance, he worked at BTV Post for over eight years.
In addition, senior re-recording engineer Andrew Wilson will begin working with Virtual Post. Wilson is chair of the Association of Motion Picture Sound, and has experience across many genres but is best known for his work in natural history - for example on Blue Planet and Planet Earth. Before going freelance in 2008, Wilson worked at the likes of Films at 59 for over 17 years, and the BBC for over six.
The pair will be supported by dubbing mixers Pete Collins (Casualty and Jonathan Creek) and Paul James (Tee & Mo, The Amazing Adrenalini Brothers).
As well as the new faces, Virtual Post has added a second 5.1 mixing studio with Genelec monitoring to its central Brighton premises, which it opened in November 2021, and upgraded its main studio to Dolby Atmos 7.4.1 HE with Dynaudio monitoring and UHD projection.
There is also a new acoustically treated two-person voice over studio with Neumann, Sennheiser and AKG microphones, which is connected to both of the mix studios.
Yives Reed, commercial director of Virtual Post, said: "As part of our recent root-and-branch review of all aspects of Virtual Post's operation, it became clear that we needed to further enhance our audio capabilities, and expand into more challenging genres, including natural history and drama.
"This revamp and restructure is the result. We've hired some of the best audio talent in the business, we've added capacity to our facilities and we've invested in next-generation technology. In short, we're all set to make a noise in post-production audio."