Telco chooses seven cities to test out its offering in real-world conditions ahead of 2019 launch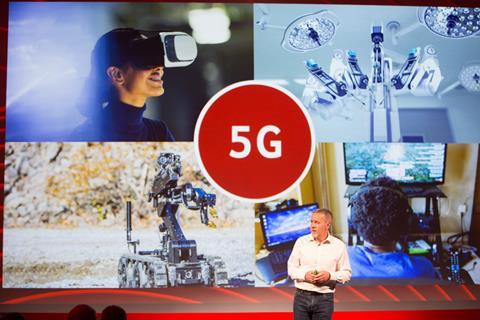 Vodafone will begin trials of 5G in seven UK cities this month, before rolling out two rural 5G trials in Cornwall and the Lake District next year. By 2020, it will extend its 5G coverage to 1,000 sites across the UK, when it is anticipated there will be mass availa­bility of 5G devices.
The seven cities chosen for Vodafone's trials are London, Manchester, Birmingham, Liverpool, Glasgow, Cardiff and Bristol. The telco will have 60 sites throughout those cities to enable it to test 5G in real-world conditions. The aim is to then launch 5G in the middle of 2019 – once the first 5G smartphones become available.
Vodafone revealed its 5G plans at its 'Future Ready' press event, which was held at its UK headquarters in Newbury, Berkshire. During the event, Vodafone showed the potential of 5G by making what it described as the "UK's first holographic call using 5G". Vodafone said the same techniques could be used for remote robotic surgery and remote sports coaching and training, as well as enhancing fan engagement, bringing sports fans closer to their idols.
The potential benefits of 5G – which theoretically could be hundreds of times faster than 4G with no perceptible latency – extend way beyond bringing sci-fi to life. It will mean the ability to seamlessly stream 4K video to any device anywhere, and it could also revolutionise outside broadcast and remote production, with everything being done remotely using 5G cameras.
It could also re-energise the waning virtual reality industry, with high-resolution, latency-free live video streaming to a VR headset significantly reducing the off-putting feelings of dizziness when moving around in a virtual environment.
Vodafone revealed it has spent £700m on its network this year alone gearing up for 5G, in addition to a multibillion-pound investment over the past few years.
Rebuilding networks
Vodafone chief technology officer Scott Petty (pictured above) explained: "To be 5G-ready requires a fundamental rebuild of mobile networks. You need a high-speed, all-fibre converged network [a single network that supports home broadband, mobile, IoT and business services]. Our converged network, RedStream, is in the ground and ready to go today."
He added: "You also need a fully virtualised network infrastructure to be able to reduce latency. We're making rapid progress moving away from legacy products to a virtualised environment."
There's something of a race going on to be the first mobile network in the UK to offer 5G. EE is mirroring Vodafone by beginning a live 5G trial next month. EE's testing is taking place in Tech City, London (the area between Old Street and Shoreditch), and is a precursor to the launch of its first commercial 5G service in 2019. O2 is trialling 5G later this year, while Three has said it will begin its 5G testing next year.