Telco is first operator to announce a switch-on date for 5G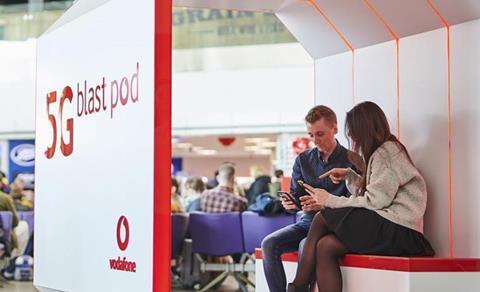 Vodafone is to launch its 5G service in seven cities in the UK on 3 July.
It is the first UK operator to announce a switch-on date. The cities that will receive 5G on July 3 are Birmingham, Bristol, Cardiff, Glasgow, Manchester, Liverpool, and London.
Later in the year, other cities will have 5G switched on too. They are: Birkenhead, Blackpool, Bournemouth, Guildford, Newbury, Portsmouth, Plymouth, Reading, Southampton, Stoke-on-Trent, Warrington and Wolverhampton.
5G is expected to lead to much faster connectivity, and has the potential to unlock an array of technologies – from immersive VR games through to self-driving cars.
For the broadcast industry, in particular, it should make it easier for consumers to view video content outside the home.
"Offering speeds over 5G up to 10 times faster than 4G, we've shown commuters at busy airports and railway stations that they can download TV box sets or movies in a matter of seconds before they embark on their journey," Vodafone said.
5G's other benefits over 4G include lower latencies and the ability to support more devices simultaneously.
Users will need a 5G-compatible smartphone or router to take advantage of the technology.
The operator announced several devices that will be 5G-compatible to launch during the summer: the Xiaomi Mi Mix 5G 3 5G; the Samsung S10 5G; and the Huawei Mate 20 X 5G.
Vodafone has said it would reveal details of its 5G price plans next week. However, it has already said they would not be more expensive than its equivalent 4G deals.
The announcement coincided with Vodafone's announcement that it had swung to a €7.6bn (£6.6bn) full-year loss, which has caused it to cut dividend payments to shareholders.