From a dystopian, war-torn Europe to animated gardens in floral splendour, UK post houses make imagined worlds real
TRIBES OF EUROPA
PRODUCTION W&B Television
VFX Cinesite
WATCH IT Netflix
Cinesite enhanced or recreated a dozen locations for this six-part Netflix series, directed by Philip Koch and Florian Baxmeyer. The dystopian sci-fi series is set in the year 2074, in a Europe fractured into several warring tribes. Many of the visual effects evoke this futuristic state with sweeping, overgrown city panoramas.
For the shooting locations, the production scouted abandoned and overgrown places, including ancient forests, pre-war industrial facilities, and cities that had been ravaged by the Yugoslav wars. The production wanted beautiful, clean buildings that were overgrown with trees and foliage, not the dark, decayed post-apocalyptic feel more typically seen in film and TV.
VFX supervisor Rick Sander found and photographed architecture in Montreal around the Old Port and in nearby parks, including eight-storey, centuries-old structures overgrown with trees.
In many cases, these buildings were added directly into matte paintings using a variety of projection techniques, combined with CG and Lidar scans from the filmed locations.
The vegetation was created using a combination of SpeedTree, Houdini and digital matte painting, combined with the photographic reference.
In one of the panorama scenes, a group of travellers walk towards a distant city lit by golden evening light.
Sander explains the origins of the scene: "That cityscape started with a photograph I shot 12 years ago of downtown Los Angeles and we applied the look to real Berlin and added the extensive forested elements. The foreground buildings were shot in Zagreb and the near-ground greenery was designed in Houdini."
Cinesite's team also worked on additional invisible enhancements to support the narrative, including skin tattoos, wounds and CG vehicles.
ADAM
PRODUCTION National Theatre of Scotland/Hopscotch Films
POST-PRODUCTION Blazing Griffin
WATCH IT BBC iPlayer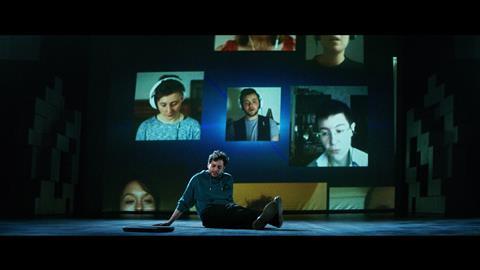 Blazing Griffin provided full remote post services on this TV reinterpretation of a stage play. The facility had just three weeks to complete the edit and finish.
The post house created a bespoke remote workflow, starting with syncing and logging the UHD anamorphic footage, which was then uploaded to Frame.io for viewing by the creative team.
HP Remote Graphics Software was used for the remote offline edit, with in-house editor Berny McGurk able to share his cut in real-time with co-directors Louise Lockwood (BBC) and Cora Bissett (NTS).
The finished grade was sent using Sohonet ClearView from colourist Colin Brown to both co-directors and DoP Carlo D'Alessandro. They viewed the film on iPads calibrated to match the grading suite's 4K Sony X300 monitor.
Blazing Griffin senior post-production manager Joanna Clements says: "In addition to the challenge of remote working, our main priority was to ensure that the two co-directors felt they could collaborate effectively."
POLY STYRENE: I AM A CLICHÉ
PRODUCTION Poly Doc Films
POST-PRODUCTION Halo
WATCH IT modernfilms.com/polystyrene/watch (Virtual Cinema release)
This film about Poly Styrene, the founder of punk band X-Ray Spex, received a virtual cinema release in March.
As a mixed-race woman from a working-class background, Poly had to navigate intense scrutiny throughout her career.
The film centres on her daughter Celeste Bell as she sets out to explore her mother's legacy and celebrate the life of a true pioneer of punk. Halo provided picture post-production.
Colourist Katherine Jamieson says: "The director Paul Sng and I met up early to talk about the project. The more I heard, the more I was hooked. In the grade, we use colour tones alongside mood throughout the film as the two are always intertwined.
With Celeste's pieces to camera, we created an almost otherworldly limbo in a white room with no edges. I burned out the highlights so the background and the book Celeste reads become one and the same thing, as if she is existing in a parallel universe of introspection looking back over her mum's life."
YOUR GARDEN MADE PERFECT
PRODUCTION Remarkable Television
VFX Fluid Pictures
WATCH IT BBC iPlayer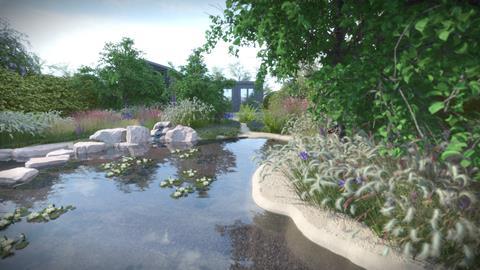 Fluid Pictures modelled more than 100 growing plant types and 18 gardens, animated 50+ VR sequences and created 350 fully CG photoreal shots and 450 green-screen shots for this BBC2 series, which uses cutting-edge technology to reveal the potential of ordinary gardens.
Fluid's work comes in at a run-time of more than 65 minutes across the series, and took five months to complete.
Remarkable brought together four garden designers, who provided Fluid with a total of 12 garden designs. The team created a library of floral assets using vegetation modelling software SpeedTree.
After a data-collecting recce to each of the properties, the asset-creation team used Maya to model the existing hard landscaping and then populated it with the appropriate plants and trees.
The new designs were modelled and planted using Mash in Maya and animated to enable the gardens to transition from one to another. In the edit, the shots were either fully CG or composited with green-screen live-action footage.