How Sony's 'all-star producing team' created Philip K Dick's imaginary worlds
Lead production company Sony Pictures Television (Left Bank Pictures in the UK)
Broadcasters Channel 4; Amazon Prime Video
Commissioners Jay Hunt; Simon Maxwell; Piers Wenger
Length 10 x 60 minutes
TX 17 September, Channel 4; 10 January 2018, Amazon Prime US
They used to make razors here. Now they're made somewhere far away, by robots."
The irony of talking to Broadcast about filming a Philip K Dick adaptation in the Gillette Building in Isleworth is not lost on Bryan Cranston.
The retro-futurism of Dick's worlds finds its ideal fit in this Art Deco building, which has opened up as alternative London studio space in recent years, initially as the home of Fox's 24: Live Another Day and now as the UK base for SonyPictures Television's Channel 4/Amazon co-pro Electric Dreams.
"It's a brilliant space, but not yet fully fit for purpose," says UK production designer Lisa-Marie Hall. "The large spaces are not yet geared up to be sound stages, but the variety of the architecture, including the exterior of the old Gillette site, was a gift.
"Everyone is on site, including workshops and construction, so we can look at each shooting in one studio and building in another while prepping the backlot."
For this anthology format, which takes 10 of Dick's short stories and puts them in the hands of 10 writers and directors, Sony split production down the middle between the UK and the US: five episodes here, five in Chicago Studio City, shot concurrently under separate teams.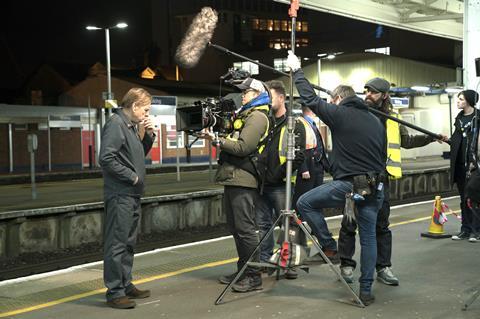 Small wonder that Cranston, best known for playing Breaking Bad's Walter White and the dad in 2000s sitcom Malcolm In The Middle, is one of 14 executive producers on the show, including Dick's daughter Isa Dick Hackett.
David Kanter (The Revenant, Cinemax series The Quarry) helped assemble this "all-star Sony producing team" that also includes Battlestar Galactica and Outlander exec producer Ronald D Moore.
"There were five companies that came together [see credits box], and all of us approached our friends, some of whom had not done TV before, and said: 'Come play with us, pick one of these exciting stories'," Kanter says.
"They only rule in storytelling is to avoid moving someone to boredom or indifference"
Bryan Cranston, executive producer
Cranston has stayed hands-on throughout. "I've been working with the other execs for three and a half years on this, developing the pitch meeting, selling it and developing the construct of how we should do it. Logistically, it shouldn't work – and yet it came together somehow."
Veteran executive producer Michael Dinner (Justified, Chicago Hope, The Wonder Years), who is showrunner on the series, had the nascent plan when he bumped into Cranston on the Sony lot (the pair also collaborate on Cranston's Amazon series Sneaky Pete).
Cementing the idea
With the spectre of iconic Dick adaptations Blade Runner and Total Recall hanging over them – Cranston starred in the remake of the latter – the idea was to showcase lesser-known parts of the writer's sprawling oeuvre.
Cranston and Dinner, plus Kalen Egan, an exec producer on Amazon's adaptation of Dick's The Man In The High Castle, each read around 30 of Dick's stories and the anthology idea was cemented.
"We agreed that every episode should be different and that we would embrace the eclectic nature of that," says Cranston.
"We wanted the stories to be a springboard for writers to do their own re-imagining – changing the gender, the location, the time; taking the stories wherever they wanted to go. I always say the rule in telling stories is to avoid indifference or boredom."
The execs agreed that the only unifier between the episodes should be Dick himself. "Everything emanated from his source material," says Cranston.
"But he was all about opening your mind and having an experience; in that spirit, we've encouraged writers to take liberties, but not to the extreme where the stories are unrecognisable."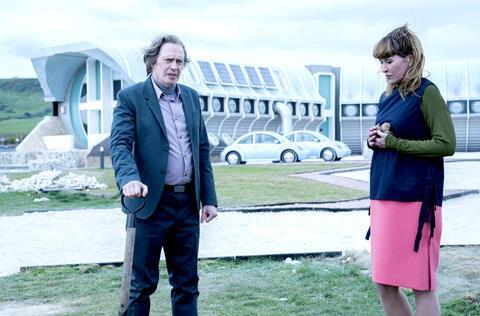 He credits Charlie Brooker's Black Mirror for proving that an audience exists for anthology storytelling.
Rather than competition, he sees the House of Tomorrow series as "a big brother" to Electric Dreams in a landscape dominated by binge-watching- oriented narrative series.
"Sometimes you want to read a novel, sometimes a short story," he rationalises. "Remember Night Gallery, TheTwilight Zone, The Outer Limits? These things ebb and flow."
Cranston saw his role primarily as a note-giver. Each episode went through at least three drafts; Human Is, the episode in which Cranston plays one of the leads, had 12.
The series has been his passion – as he admits, he does not need the work, so how could it not be? Yet he admits to expecting "no shortage of frustration" when he embarks on any project with his company, Moonshot Entertainment.
"It's just the nature of how art and commerce clash and smash into each other," he says. "The producer will say: 'How can you not see that we need more money for this?', while the broadcaster says: 'How can you not see that we're not going to give it to you?'
"You have to figure out how to make that marriage work. It is often inherently difficult, but you'll do it because you believe in it: you'll make that call, you'll get on board, you'll pitch your vision and how you make the sale."
Sony's ambition had always been to make it an international series, bringing in Left Bank Pictures early on to oversee the UK production.
The timing was fortuitous: C4 chief creative officer Jay Hunt and international drama commissioner Simon Maxwell had just lost Black Mirror to Netflix. C4 put forward British writers including Jack Thorne, while Matthew Graham (Life On Mars) was suggested by Ronald D Moore.
Red Riding writer Tony Grisoni's involvement came from a long-standing relationship with Dick's estate. The writers had their pick of the stories selected by the execs and were fed three at a time to read at their leisure until they found the one that resonated.
Electric Dreams was initially a C4/AMC co-production but the US partner backed away due to its established commitment with the thematically similar Humans; Cranston says Amazon was the first place they went when the project was briefly orphaned.
Enormous task
Kanter adds: "We held our breath with just the C4 part of it in place, but having just five UK episodes wouldn't have worked. When you're in for a dime, you're in for a dollar."
Nevertheless, delivering 10 stories with 10 casts and directors, and set, wardrobe and prop demands, was an enormous undertaking.
"No two episodes can look or feel the same, so you have to be extremely resourceful," says Kanter.
"We tasked our crews hard and said they couldn't revisit any set. When you wrap on an episode, you don't have time to prep for the next one, so you're casting, rewriting and rehearsing while cutting previous episodes. It's a constant run of memos and feels like a seven- or eight-dimensional chess game."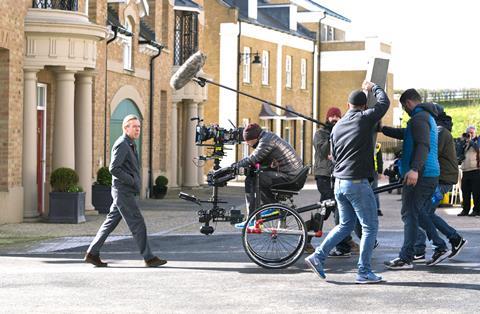 The UK gets the show first, with the whole series landing on C4 over 10 weeks from the end of September. At the time of writing, the sequence is still being determined by delivery date.
By the time it hits Amazon, the execs plan to have taken a more considered approach of sequencing the 10 episodes in a whole-series release – "like a tribute album", jokes Kanter.
"We'll be looking at which one best introduces Dick's themes and ideas, who takes the left turn, and who brings it back round."
With many more stories to draw on, hopes are set on a second series. Kanter says Dick's exploration of the individual and society, and his treatment of fear, anxiety and mistrust, is timeless.
"We want this to be a thoughtful, provocative, emotional experience and we want the audience to find something to relate to existentially in each episode – and then send them back to the books."
THE DREAM TEAM
Executive producers Michael Dinner (Rooney McP Productions); Isa Dick Hackett, Kalen Egan, Christopher Tricarico (Electric Shepherd Productions); David Kanter, Matt DeRoss (Anonymous Content); Ronald D Moore,
Maril Davis (Tall Ship Productions); Bryan Cranston, James Degus (Moonshot Entertainment); Lila Rawlings, Marigo
Kehoe (Left Bank Pictures); Don Kurt, Kate DiMento (Sony Pictures Television)
Directors Marc Munden; Tom Harper; David Farr; Francesca Gregorini; Michael Dinner; Jeffrey Reiner; Julian Jarrold; Dee Rees; Peter Horton; Alan Taylor
Writers Tony Grisoni; Jack Thorne; David Farr; Jessica Mecklenburg; Michael Dinner; Ronald D Moore; Matthew Graham; Dee Rees; Travis Beacham; Kalen Egan
Production designers Lisa-Marie Hall (UK); Julie Berghoff (US)
BUILDING THE WORLD OF PHILIP K DICK
Electric Dreams' mantra that the one constant in the anthology is Philip K Dick himself filters through to the aesthetics of the series.
Lisa-Marie Hall, the set designer for the five UK episodes, took iconic designs of the 1950s, when Dick wrote most of these stories, as her starting point. "I designed this from the scripts rather than the books, but did a lot of reading about the value Dick placed on nostalgia and human relationships," she says.
This was the first sci-fi project for Hall, whose work has included London Spy for BBC2 and Channel 4's This Is England '86, though there are echoes here with her alternative reality worldbuilding for BBC1's SS-GB.
"With anything technology-based, the level of audience expectation is huge," she says. "A 'futuristic world' could mean anything; if you try to make it super-slick and expensive, you'll fall down. You have to take a left-field approach and find the show's own language."
Hall says she pored over images of bubble cars, lighthouses and "rusty old crab shacks" and studied the 1950s architects pushing boundaries in their visions of the future, such as Buckminster Fuller and the Archigram Group.
Fuller's imprint is particularly visible in the episode Human Is, primarily set in a single house. "I decided to see how cleverly we could use our resources to build geodesic domes and steel structures as complete environments," says Hall.
"As a sculptor, I'm interested in how actors move through rooms rather than being boxed in them."
The rest of the house developed out of a need to build sets quickly and to use a lot of digitally-cut scenery outside the windows, shot in Israel with drones. For the characters' indoor garden, Hall took Fuller's geodesic domes and fused them with the molecular atomic structures on show at the 1951 Festival of Britain.
Hall describes it as "a gift" to be given the chance to sculpt five new worlds for one series. "I've slightly got the sci-fi bug," she says. "I might find it hard going back to a contemporary crime drama now."