'At its simplest, watching these artists is mesmerising'
Distributor Distribution360
Producer Marblemedia
Length 10 x 30 minutes
Broadcaster CBC (Canada)
Race Against The Tide is the latest format from Canada-based Marblemedia, which has built a reputation for unusual competition shows – such as Netflix's Blown Away and the upcoming Best In Miniature for CBC and Discovery+.
In the 10-part series, which launched on CBC in September and is hosted by actor Shaun Majumder, 10 world-class sand sculptors compete to make their most extraordinary creations while avoiding elimination.
There is a twist, though. Not only are they competing with each other, but they are also racing to complete their sculptures against the rising tide. The series is shot at New Brunswick's Bay of Fundy, the location of the world's highest tide – giving the competitors just six hours to complete their masterpieces before they are swept away.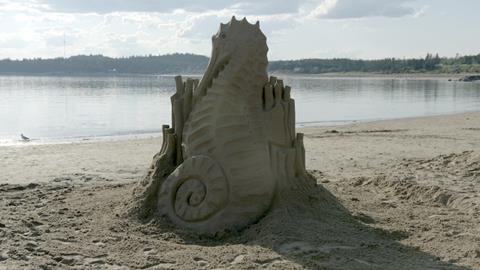 The series is being sold globally as a finished tape and as a format by Marblemedia's in-house distribution division, Distribution360.
Senior vice-president of rights and executive producer Diane Rankin says the in-house format was inspired by an experience of Marblemedia development producer Kelsey Espensen, when she was a summer reporter at her local radio station.
While covering a sandcastle-building competition, Espensen was struck by the skill behind the creations. Amid growing demand for skills-based formats from broadcasters, she brought up the idea of a sandcastle competition with her Marblemedia colleagues.
Recognising its potential, the development team set about scaling up the idea to make it more primetime, says Rankin. This is where the idea of adding the natural ticking clock of the tide emerged. "At its simplest, watching these artists is mesmerising – because when it comes down to it, it's just sand and water," she says. "But the natural jeopardy of the ticking clock is a big beat."
Rankin says Marblemedia's research into suitable places to produce the show proves it has global legs: "There are excellent high tides in the UK – for, example the Bristol Channel – in Alaska, northern France and South America."
Mipcom Hot Picks: Formats
1

2

Currently reading

Hot Picks: Race Against The Tide

3