Netflix focuses on 'quality' shows like Stranger Things, alongside commitment to empowering local commissioners
Netflix is to double down on tentpole titles such as Stranger Things because audiences "expect them back-to-back", according to content chief and co-chief exec Ted Sarandos.
The sci-fi title played a large part in the streaming giant's Q2 earnings call yesterday, in which it revealed it had lost less than half of the 2m subscribers forecast.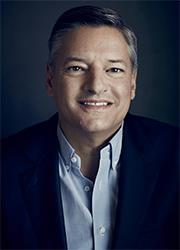 "When we get a Stranger Things, it pays off, we've got to do that constantly," Sarandos told an investors call. "[We need to prove] not only can we deliver on something like that, but people expect it back-to-back."
In a letter to shareholders, Netflix noted that "when we deliver shows that members are talking about in large numbers, we can influence pop culture, build passion for Netflix and create an experience that is differentiated and difficult-to-replicate".
Sarandos and finance chief Spencer Neumann championed the Duffer brothers' hit for "driving engagement" among audiences, with the latter saying that it is the company's "north star" because it "drives viewing and [in turn] we can drive member growth".
Quality at scale
Netflix committed to spending around $17bn a year (£14.2bn) for the next few years, with a "focus on quality", according to Sarandos, who said its global commissioning team is seeking high-quality local shows which can have the impact of Korea's Squid Game or UK youth-skewing series Heartstopper.
"The focus on quality has always been there. And it has intensified as the competition has intensified," he said.
"We've got to really focus on working tightly with [creatives]. The output of great content is generally the result of a thousand great decisions, and the most important one is the creative you're working with.
"We must pick people who really want to win for the audience, who will work with our teams to create great TV shows that can go on for multiple seasons."
He added that empowering local decision-making power is crucial, with Netflix at pains to avoid "bottlenecks" at its California HQ.
Ad tier
Outlining early plans for its content library on its forthcoming ad-supported tier, Sarandos noted that it remains in discussions with partners around its ability to offer some third-party titles under the model.
"We will clear some additional content, but certainly not all of it," he said. "But we don't think it's a material hold-back to the business. We can include a large majority of what people watch."