Footage sent from submersible through the waves in Indian Ocean using LED light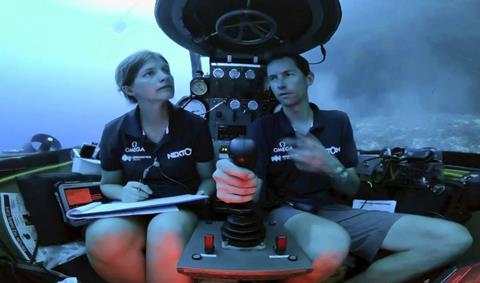 The Associated Press has transmitted a pioneering live, broadcast-quality video from a submersible operating 200 meters below the surface of the Indian Ocean.
Using cutting edge optical technology, the footage was sent through the waves using LED light and from the surface by satellite to hundreds of broadcasters and digital publishers across the globe.
AP achieved the underwater broadcast during the first descent by an international science team participating in a UNESCO-endorsed, deep-sea research mission in an unexplored stretch of the Indian Ocean.
Video was transmitted from 200 meters down using the blue light region of the electromagnetic spectrum – removing the need for the submersibles and the scientists inside to be tethered to fibre optic cables. The method was engineered by subsea communications specialist Sonardyne
AP is covering the UK-led Nekton research voyage as scientists explore depths of up to 3,000 meters off the coast of the Seychelles in two-person submersibles backed up by data gathering tools, including remote-controlled motion sensor cameras.
Upcoming AP video coverage will include the search for submerged mountain ranges and coral forests, as well as likely sightings of previously undiscovered marine life.
Sandy MacIntyre, AP vice president and director of key initiatives said: "Getting a high-quality wire-free video signal from the uncharted depths of the Indian Ocean, alongside a science team that is exploring exciting new frontiers was a great moment."
Nekton CEO Oliver Steeds said: "With First Descent we want to explore the last great frontier on our planet, the deep ocean. With this amazing new optical technology we are able to broadcast what we are doing around the world to engage new audiences with our oceans.