Manufacturer also updates Pocket Cinema Camera to add support for the Blackmagic RAW codec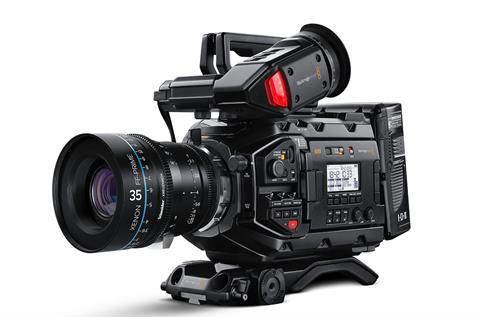 Blackmagic has unveiled a second generation Ursa Mini Pro and has updated its Pocket Cinema Camera 4K to add support for the Blackmagic RAW codec.
The second generation Ursa Mini Pro features redesigned electronics, a new Super 35mm 4.6K sensor with 15 stops of dynamic range and can shoot at up to 300 frames per second. A new USB-C expansion port also allows for direct recording to external disks. It also supports Blackmagic RAW.
Manufacturing of the Ursa Mini Pro G2 will begin next week and it will retail at $5,995 (£4558).
Blackmagic described it as "a dramatic advancement over the original model."
The Ursa Mini Pro 4.6K G2 can also capture Blackmagic RAW images in both film and extended video modes, making it suitable for high end feature films, television shows, commercials, and indie films as well as broadcast news, studio and even live multi camera production.
Meanwhile, a Blackmagic update, which is free to download, adds support for Blackmagic RAW to the Pocket Cinema Camera 4K.
Blackmagic bills Blackmagic RAW as a "revolutionary next generation codec that combines the quality and benefits of RAW with the ease of use, speed and file sizes of traditional video formats."
Blackmagic said customers can record over two hours of full cinematic quality Blackmagic RAW footage in 4K on a single 256GB SD UHS-II card.